Fundamental and Geopolitical Review: Palladium prices fell last week to briefly test the lowest rate in four months ($1,256.05), before it moved back above 1300 on May 10. Palladium prices came under pressure as President Donald Trump heightened tensions with China by escalating his tariffs on $200 billion in Chinese goods from 10% to 25%. Moreover, U.S. President Donald Trump on Friday (May 10) ordered his trade chief to begin the process of imposing tariffs on all remaining imports from China, underscoring a lack of progress by U.S. and Chinese negotiators in talks aimed at ending an escalating trade war, which could adversely affect demand for Palladium. Trump's move would subject about $300 billion worth of Chinese imports to punitive tariffs, U.S. Trade Representative Robert Lighthizer said in a statement.
Earlier this year, Palladium prices rose to a fresh all time high of $1,576.30 (March 21, 2019), benefiting from an ongoing structural deficit, amid strong demand from the car industry. Just for the record, palladium has seen a switch from diesel to gasoline car engines following an emissions scandal in 2015. Palladium is used in vehicle exhausts in gasoline engines. Palladium, however, has come under pressure by weakening car sales around the world, and China in particular, which hurt the outlook for demand. Chinese auto sales declined almost 14% in February, while data earlier in April showed that China's auto sales fell again in March but the pace of decline was the smallest in seven months. Sales in March fell 5.2% from a year ago to 2.52 million vehicles, the China Association of Automobile Manufacturers said, marking the ninth straight month of decline in the world's largest auto market. China is the largest consumer of Palladium and therefore figures from China's car industry will continue to affect the value of Palladium. Palladium was still up in 2019, trading up around 11.00% year to date.
Technical Outlook
From a technical perspective, Palladium turned negative over the past month and a half, as it fell off its all- time high of $1,576.30 (March 21) to test its lowest rate in four months ($1,256.05, May 10). Palladium, however, soon recovered above $1,300.00 and above its 200-Day Exponential Moving Average, to test levels above its Weekly Pivot Point of $1,316.32. To the upside, Palladium may be able to target Weekly Resistance 1 of $1,376.58 as long as it manages to stay above its Weekly Pivot Point of $1,316.32.
To the downside, Palladium could target Weekly Support 1 of $1,272.48 if Palladium soon breaches below its Weekly Pivot Point of $1,316.32. The case of a persistent decline is also supported by the Daily Relative Strength Index, which trades in negative territory below the rate of 50.0, suggesting that the bears are still in command.
| | |
| --- | --- |
| Pivot Point: | 1316.32 |
| Resistance 3: | 1480.68 |
| Resistance 2: | 1420.42 |
| Resistance 1: | 1376.58 |
| Support 1: | 1272.48 |
| Support 2: | 1212.22 |
| Support 3: | 1168.38 |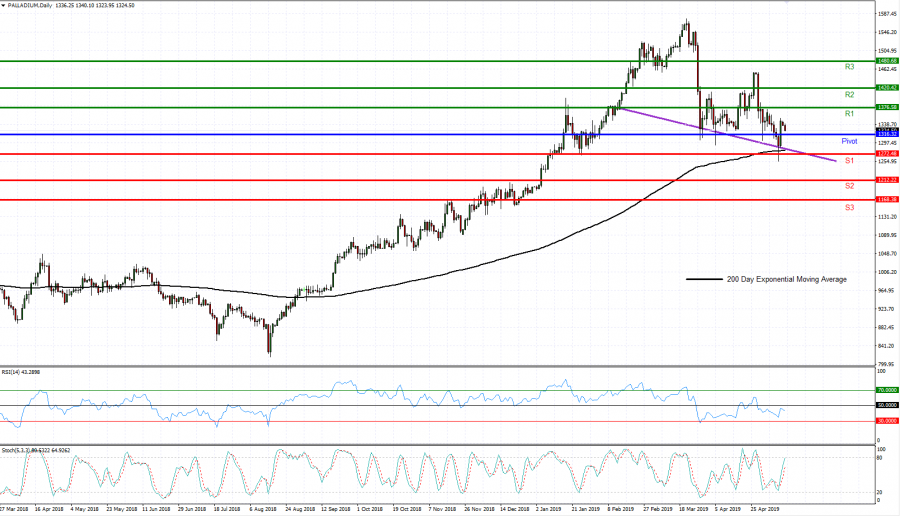 Graph: (Palladium, Daily)