Tesla Inc. weekly uptrend opportunity based On 1.00 Lot Calculation:
Tesla Inc. designs, manufactures, and sells high-performance electric vehicles and electric vehicle powertrain components. Tesla sells more than five fully electric cars, among others, the new Model Y, the Model S sedan and the Model X SUV, and the Model 3 sedan, which is among the world's top-selling electric cars.
EVENT: Q4 EARNINGS RESULTS (NEW RECORDS TO BE SET) (EXPECTED: JANUARY 27, 2022). The company is expected to report a revenue figure of $15.08 billion (new record) for the fourth quarter of 2021, accompanied by a record high earnings of $1.80 billion. Mr. Elon Musk (CEO) is expected to again participate in the conference calls, and this time he will be expected to speak about Cybertruck and Semi-Truck delivery dates. He might also make a mention on the next big model (a lower-cost Electric Vehicle).
Q4 CAR DELIVERY DATA (NEW RECORD REPORTED ON JANUARY 2, 2022). Tesla said it delivered 308,600 electric vehicles in the fourth quarter of 2021, beating its previous single-quarter record (241,300) as well as analysts' expectations (267,000). For the full year, Tesla delivered 936,172 vehicles, an 87% increase versus 2020.
STATISTICS: THE STOCK HAS RISEN 6 OUT 8 TIMES IN THE LAST EIGHT QUARTERS BETWEEN QUARTERLY DELIVERY AND THE EARNINGS DATE: Tesla stocks tend to rise between the car delivery date and quarterly earnings date, which has been the case for 6 out of the last 8 quarters. The data was derived from stock price changes between the day Tesla issues its previous quarter car delivery data and the day they announce previous quarter results, which typically spans around three weeks. This shows that investors try to predict quarterly results by having information on car delivery data. The average increase is 21.59%.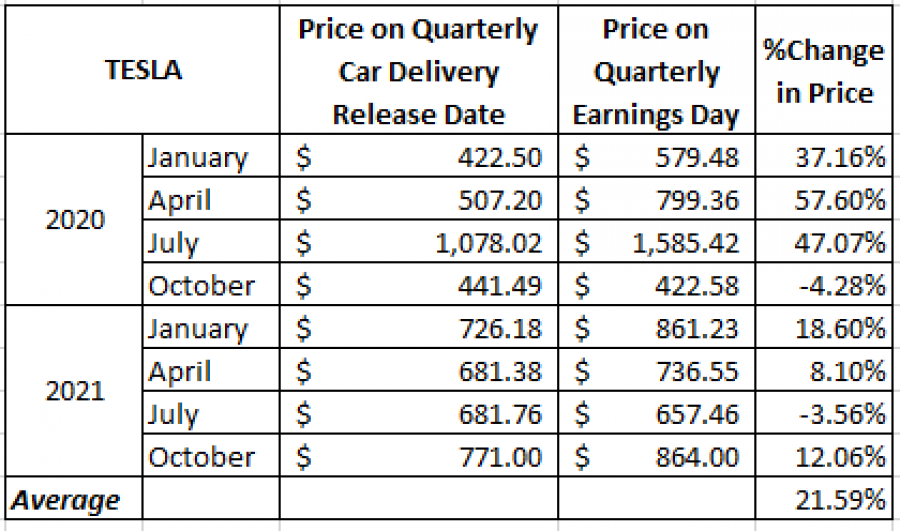 Data Source: Fortrade MT4 Platform
Please note that past performance does not guarantee future performance.
GIGAFACTORIES (GERMANY+U.S.A.+CHINA): Tesla will be expanding production in Berlin, Germany and Austin, Texas (USA). Meanwhile, they have expanded capacity with the Shanghai gigafactory.
ANALYST OPINION: Goldman Sachs forecasts $1200 a share. Wedbush analyst Deni Ives raised Tesla Prices Target to $1,400 from $1,100. Morgan Stanley forecasts $1300. Deutsche Bank forecasts $1200.
TESLA STOCK PRICE ACTION: The Tesla stock may see upside potential of around 17%. The stock fell from its recent all-time high of $1243.25 to test levels below 900. This marked a correction of around 30%.
Tesla Inc., (#TSLA) January 11, 2022
Current Price: 1060
| | |
| --- | --- |
| TESLA Inc. | Weekly |
| Trend direction | |
| | 1300 |
| | 1240 |
| | 1200 |
| | 950 |
| | 900 |
| | 870 |
Example of calculation base on weekly trend direction for 1.00 Lot*
TESLA INC.

Pivot Points

Profit or loss in $

240,000.00

180,000.00

140,000.00

-110,000.00

-160,000.00

-190,000.00

Profit or loss in €**

211,474.24

158,605.68

123,359.97

-96,925.69

-140,982.83

-167,417.11

Profit or loss in £**

176,342.22

132,256.67

102,866.30

-80,823.52

-117,561.48

-139,604.26

Profit or loss in C$**

303,456.00

227,592.00

177,016.00

-139,084.00

-202,304.00

-240,236.00
* 1.00 lot is equivalent of 1000 units
** Calculations for exchange rate used as of 09:15 (GMT) 11/01/2022
Fortrade recommends the use of Stop-Loss and Take-Profit, please speak to your Client Manager regarding their use.
*** You may wish to consider closing your position in profit, even if it is lower than suggested one
**** Trailing stop technique can protect the profit – Ask your Client Manager for more details