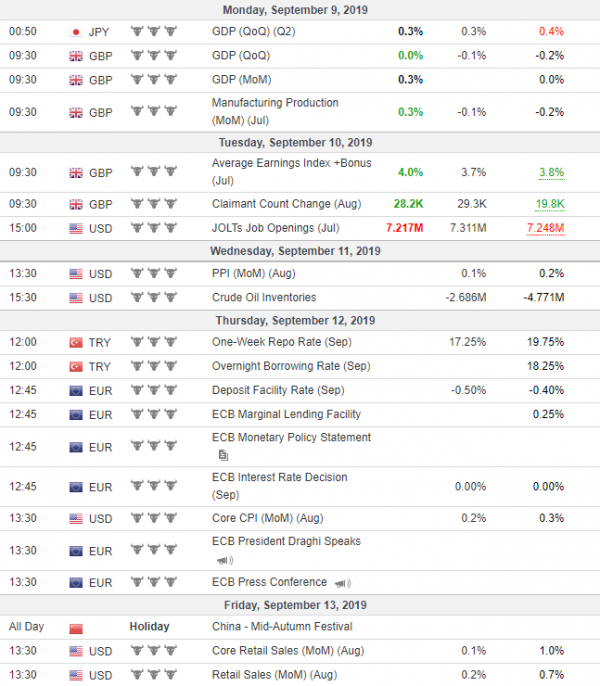 The euro strenghtened against the US dollar recovering from the lows of the previous week. Ahead of the ECB meeting this Thursday, the recovery was capped by the German 2020 budget, which came out without any surprises. Additionally, retreating US Treasury yields are providing support for the euro as the dollar weakened across the board.
The British strongly recovered last week. Recent optimism over an orderely Brexit helped the pound to bounce back last week. The UK lawmakers voted against the Prime Minister Boris Johnson's bid for an early election and passed a law to enable a three month extension to the Brexit date. However, Johnson reiterated his commitment to deliver Brexit by 31 October.
The Japanese yen weakened as risk on sentiment on the market prevailed.
Gold prices strongly fell, and slipped below the 1,500 level on Tuesday. A continued rebound by bond yields negatively affected the metal's appeal.
US stock indexes continued their upward trajectory. US Finance Secretary Steven Mnuchin said that many open questions with China have been solved in behind-the-scenes negotiations.
Crude oil prices jumped higher, reaching their highest level in almost six weeks on Tuesday, on optimism that OPEC and other producing countries may agree to extend output cuts to support prices. The Joint Ministerial Monitoring Committee of OPEC will meet on Thursday.