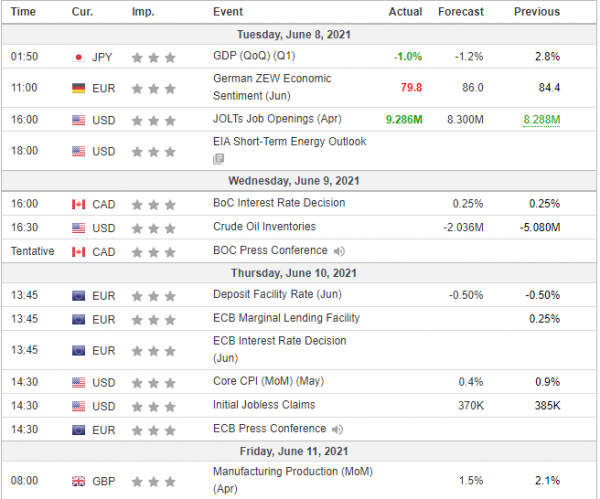 The euro was little changed against the dollar exhibiting, although the pair was highly volatile. The reopening of European economies is progressing, while the European Central Bank will meet on Thursday. It is set to acknowledge the euro zone recovery but without refraining from bond tapering. The US Non-farm payroll figures, released on Friday, showed a slower pace of job creation in the US pulling the dollar down. On the other hand, the US currency is quite resilient above the 1.22 level.
The GBP/USD traded sideways last week. Complete reopening could be delayed from June 21 due to rising coronavirus cases and the rapid spread of the Indian variant.
The Japanese yen was little changed against the dollar but oscillated in the 109 to 110 range. The G7 meeting this weekend, of which Japan is a part, will be a chance to promote international efforts on fighting the pandemic and climate change – particularly since the Tokyo Olympics are next month.
The gold price traded around the $1,900 level but was quite volatile. Rising inflation and low government bond yields of the developed nations are driving factors for gold's rise in the last two months. Strong price action during the same period is a major obstacle against a move higher.
US indexes slightly rose. Tight trading ranges, with investors seemingly reluctant to take major positions ahead of the release of the latest inflation numbers on Thursday, were the main features of investors' activity.
Oil prices touched their highest level since October 2018. Oil prices retreated on Monday and Tuesday on profit taking and latest data showing China's oil imports fell in May. However, the overall optimism about strong demand recovery kept a floor under prices.