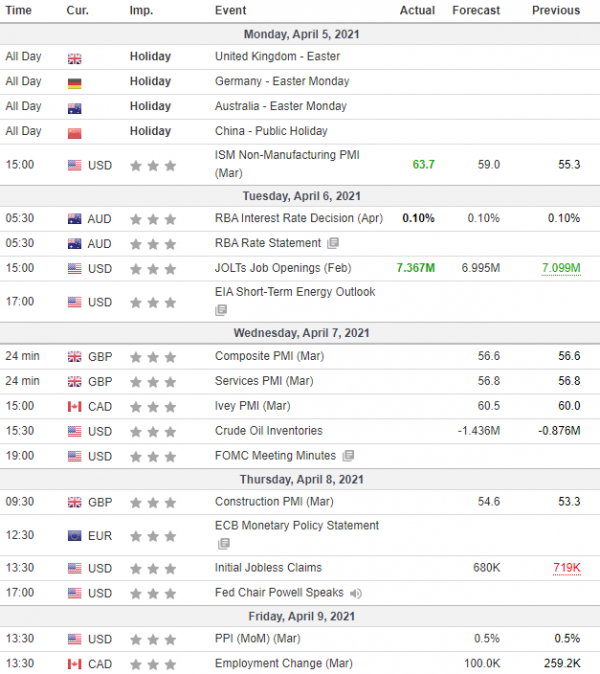 The euro found support and slightly recovered last week after a long downward spiral. Fundamentally, not many things have changed for the better for the euro but the dollar eased after President Biden presented his colossal infrastructure spending plan last week signaling a new round of dollar-printing. The EU is still lagging behind the US when it comes to inoculation, which is exerting negative pressure on the shared European currency.
The British pound strengthened against the dollar benefiting from its oversold level and the UK government's announcement that it will proceed with its reopening plan on April 12. The UK still remains hesitant about allowing international travel. The Japanese yen consolidated its previous losses as the interest rate differential between the US and Japanese government bonds pushed up the currency pair. However, US yields decelerated with the benchmark 10-year US bond yield hovering around 1.7%. Overall, the dollar index retreated on increased "risk on" sentiment…
This helped the gold price recover and the precious metal traded again above the $1,700 level and the cap remains around $1,730.
The Dow Jones and S&P 500 indexes are hitting new all-time highs as fiscal stimulus distribution, the successful vaccination in the US and excellent macroeconomic data continued to provide support. The US economy added more than 900,000 jobs in March, which is the best NFP figure since the beginning of the pandemic. The services sector in the US is performing well as the PMI index beat estimates by almost five points on Monday.
Oil prices slightly were little changed last week. OPEC+ decided on Thursday it will pump an additional 350,000 barrels per day in May and June, and a further 400,000 daily in July. The de facto leader, Saudi Arabia, initially did not want an output hike, but gave in to pressure from the rest of the cartel. On the other hand, Europe as one of the single largest consumers of oil continued to struggle with Covid, while India as the third largest oil buyer and Brazil face a very grave health situation, which dampened traders' sentiment.