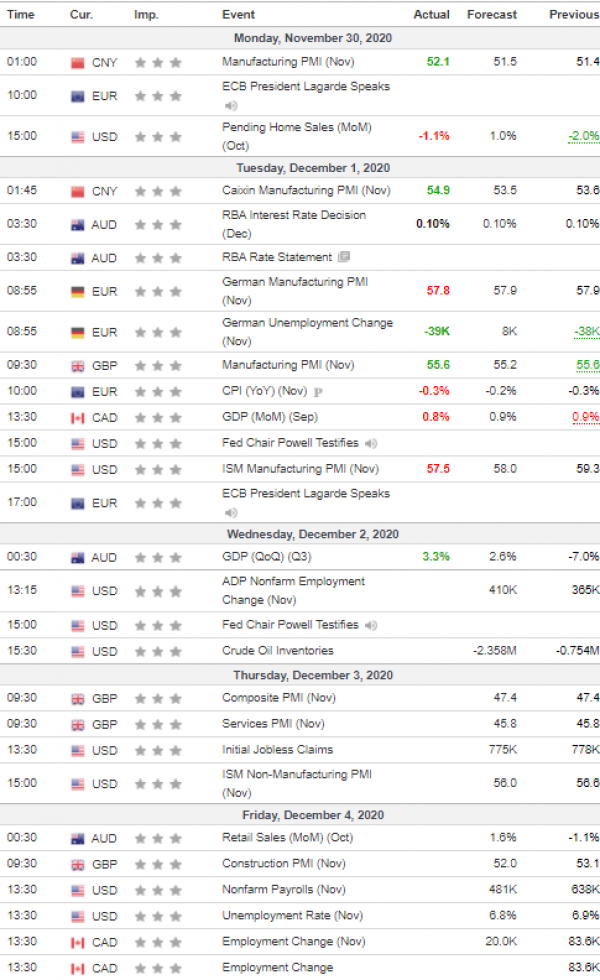 The euro strengthened against the dollar. Christine Lagarde, President of the European Central Bank, reiterated ECB's commitment to adding stimulus later this month. The health situation is getting under control in Europe, so the shared European currency is ready to test the 1.2 level.
The British pound was little changed. The post-Brexit deal is at hand but still no major breakthrough. Fisheries and a level-playing field remain contentious issues. It seems that the UK will be the first country to give regulatory approval for the Pfizer/BioNTech vaccine, which boosted positive sentiment providing support to the pound.
The Japanese yen was little changed against the oversold dollar.
US stock indexes moved higher. Post-covid optimism and the US Fed, likely to provide fresh monetary support, pushed indexes up. On the other hand, high valuations kept indexes in check.
Gold prices continued its free fall last week as the prospect of post-pandemic world renewed investors' optimism who decided to drop the yellow metal and buy risky assets and currencies.
Crude oil prices confirmed its strong gains. OPEC and Russia are meeting this week in an effort to extend supply cuts next year. However, ministers failed to reach a consensus on Monday postponing the meeting until Thursday. The UAE signaled earlier it would be willing to support a rollover of supply cuts only if group members' compliance with cut commitments improved.