WEEKLY TREND: UP
Most copper is used in electrical equipment such as wiring and motors. This is because it conducts both heat and electricity very well, and can be drawn into wires. It also has uses in construction (for example roofing and plumbing), and industrial machinery (such as heat exchangers). Car Use: Copper is used throughout electric vehicles as well, charging stations and supporting infrastructure because of the metal's durability, high conductivity and efficiency.
HIGH DEMAND:
US: US INFRASTRUCTURE BILL WORTH TRILLIONS DOLLARS: The US Congress approved an infrastructure bill of around 1 trillion dollars and President Joe Biden outlined a huge $3.5 trillion plan to reengineer the nation's infrastructure. The Biden administration is willing to build roads, railroads and bridges across the US, and copper will be one of the most used raw materials in this process.
CHINA: CHINA IS THE WORLD'S LARGEST IMPORTER OF COPPER (6.68 million tonnes in 2020 (around 33% of global supply): China is expected to import more than 12 million tons of copper in 2021 as their economy continues to recover. The Chinese economy grew by 18.3% in the first quarter of 2021, the highest on record, and 7.9% in the second quarter.
LIMITED SUPPLY:
CHILE IS THE LARGEST PRODUCER OF COPPER, A COUNTRY WHICH HAS BEEN HARD HIT BY THE COVID PANDEMIC: In 2020, China produced 5.7 million tons of copper, while the second in line, Peru, produced 2.2 million tones. Due to the COVID-19 pandemic, however, Chile's copper supply saw declines in the first quarter and the second quarter of 2021. Miners' strikes over wage negotiations are common, which can often have a bullish effect on the market.
GLOBAL SUPPLY (Total Circa 20 million tonnes): Chile 28.5%, Peru 11%, China 8.5%, Congo 6.5%, USA 6%.
ANALYST OPINION (GOLDMAN SACHS): Goldman projects a 200,000 tonne deficit next year. Goldman Sachs reiterated its bullish forecast for a copper price of around $5 per pound.
LONG TERM UPTREND: Despite the most recent sell-off, Copper managed to stay above its long term uptrend line. This could suggest an upward recovery as long as it stays above the uptrend (black) line.
200 DAY SIMPLE MOVING AVERAGE: Copper has also managed to stay above the 200 Day Simple Moving Average, which is another positive signal.
RESISTANCE AND SUPPORT LEVELS: If Copper manages to stay above the uptrend line and the 200 Day Simple Moving Average, then it could be expected the prices to continue recovering, targeting Resistance 1 of 4.4200. If, however, the prices fail to stay above the uptrend line, then it could be expected Copper to fall and target Support 1 of 4.0000.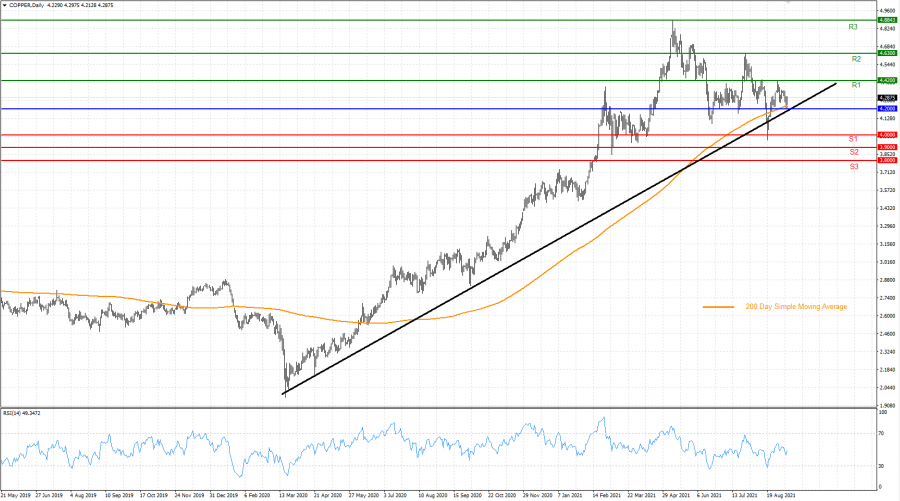 Graph: Copper, Daily
Current Price: 4.2000
| | |
| --- | --- |
| Copper | Weekly |
| Trend direction | |
| | 4.8843 |
| | 4.6300 |
| | 4.4200 |
| | 4.0000 |
| | 3.9000 |
| | 3.8000 |
Example of calculation based on weekly trend direction for 1.00 Lot*
COPPER

Profit or loss in $

6,843.00

4,300.00

2,200.00

-2,000.00

-3,000.00

-4,000.00

Profit or loss in €**

5,786.65

3,636.21

1,860.39

-1,691.26

-2,536.89

-3,382.52

Profit or loss in £**

4,966.47

3,120.83

1,596.70

-1,451.55

-2,177.32

-2,903.09

Profit or loss in C$**

8,704.30

5,469.60

2,798.40

-2,544.00

-3,816.00

-5,088.00
* 1.00 lot is equivalent of 10000 units
** Calculations for exchange rate used as of 09:00 (GMT+1) 09/09/2021
Fortrade recommends the use of Stop-Loss and Take-Profit, please speak to your Client Manager regarding their use.
*** You may wish to consider closing your position in profit, even if it is lower than suggested one
**** Trailing stop technique can protect the profit – Ask your Client Manager for more details