WEEKLY TREND: UP
Fundamental Overview:
MODERNA RECENT PRICE ACTION: Moderna tried to recover after losing around 35% since late September, when it tested its lowest rate in two and a half months ($293.52). Moderna came under pressure after another company (Merck) released positive data for its pill treatment tests against COVID-19 virus, which looked like a competition to Moderna's Covid-19 vaccines.
EVENTS TO WATCH:

U.S. FDA BOOSTER SHOT APPROVED BY THE US FDA: Moderna's booster shot was recommended by the US Food and Drug Administration for people who are 65 and older, as well as those between 18 and 64 who are at high risk of developing severe COVID-19 or who live or work in situations that increase their risk. Unlike the Pfizer booster, the additional Moderna shots will be half doses, 50 micrograms compared to the 100 micrograms in the first and second Moderna shots that are given four weeks apart.
U.S. FDA FULL APPROVAL EXPECTED: The US Federal Drug Administration (FDA) is expected soon (Q4) to grant Moderna a full approval to its COVID-19 vaccine in the U.S. It is currently used under Emergency Use Authorization.

COVID-19 VACCINE SALES TO STAY STRONG: Moderna is still expected to rake in around 20 billion dollars of revenue in 2021, and similar numbers in 2022. Just recently they said that made a deal with Peru to supply them with 20 million doses.
IMMUNITY FROM VACCINE WANES WITH TIME: According to Pfizer and Moderna researches, the immunity after the second dose wanes within a few months, which means that vaccination process should roll over in order to keep the pandemic under control. Therefore, Moderna could be still expected to sell COVID-19 vaccines and to make money from it. In addition, the COVID-19 vaccine is still the best weapon to the fight the COVID-19 pandemic.
Technical Overview:
LONG TERM UPTREND: Despite the most recent sell-off, Moderna managed to stay above its long term uptrend lines. This could suggest an upward recovery as long as it stays above the two uptrend (blue and orange) lines.
14-DAY RELATIVE STRENGTH INDEX (RSI): The 14-Day RSI has earlier fallen below the oversold threshold of 30. The index started to recover, which is a bullish signal for the stock price.
RESISTANCE AND SUPPORT LEVELS: If Moderna manages to stay above the uptrend lines and speculators gather up to trade on 14-Day RSI oversold signal, then it might be expected the prices to start recovering, targeting Resistance 1 of 370. If, however, the prices fail to stay above the uptrend lines, then it might be expected Moderna to continue falling and target Support 1 of 300.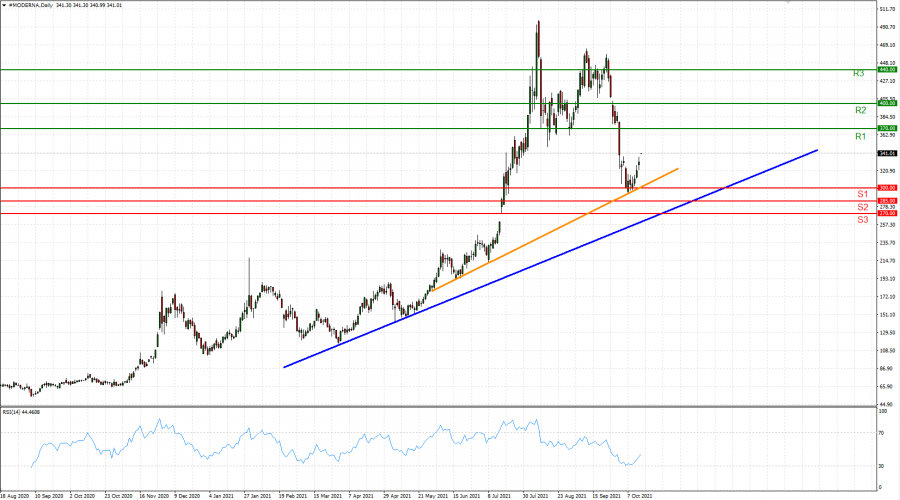 Graph: Moderna, Daily
Current Price: 334
| | |
| --- | --- |
| MODERNA | Weekly |
| Trend direction | |
| | 440 |
| | 400 |
| | 370 |
| | 300 |
| | 290 |
| | 270 |
Example of calculation based on weekly trend direction for 1.00 Lot*
MODERNA

Profit or loss in $**

106,000.00

66,000.00

36,000.00

-34,000.00

-44,000.00

-64,000.00

Profit or loss in €

91,249.52

56,815.74

30,990.40

-29,268.71

-37,877.16

-55,094.05

Profit or loss in £**

77,182.97

48,057.32

26,213.08

-24,756.80

-32,038.21

-46,601.04

Profit or loss in C$**

130,772.20

81,424.20

44,413.20

-41,945.80

-54,282.80

-78,956.80
* 1.00 lot is equivalent of 1000 units
** Calculations for exchange rate used as of 09:18 (GMT+1) 15/10/2021
Fortrade recommends the use of Stop-Loss and Take-Profit, please speak to your Client Manager regarding their use.
*** You may wish to consider closing your position in profit, even if it is lower than suggested one
**** Trailing stop technique can protect the profit – Ask your Client Manager for more details