WEEKLY TREND: UP
COMPANY: Nio Inc. manufactures and sells automobiles. The company offers electric vehicles and parts, as well as provides battery charging services. Nio serves customers worldwide. Nio is considered a strong competition to Tesla Inc., especially in China. Nio Inc. is headquartered in Shanghai, China.
Nio currently sells the ES8 and ES6 electric SUVs, and a new EC6 electric crossover (seen as a potential competition to Tesla's Model Y in China).
EVENT: NIO DAY (January 9, 2021): Nio is expected to launch a mid-size sedan, the ET7, which is expected to compete with Tesla's Model 3. Nio Inc. will also release a 150 kWh battery (NIO currently offers 70 kWh, 84 kWh, and 100 kWh battery packs.), an upgraded autopilot system that uses laser-based sensors for vehicles to gauge their surroundings. They will also announce a new battery-swap station.
NIO CAR DELIVERY FOR DECEMBER, Q4 AND TOTAL 2020 (NEW RECORDS BROKEN): NIO delivered 7,007 vehicles in December 2020, setting a new monthly record representing a strong 121.0% year-over-year growth. NIO delivered 17,353 vehicles in the fourth quarter (Q4) of 2020, representing an increase of 111.0% year-over-year and exceeding the higher end of the Company's quarterly guidance. NIO delivered 43,728 in 2020 in total, representing an increase of 112.6% year-over-year.
COMPANY FINANCIALS: Nio Inc. is expected to rake in 2.44 billion dollars in revenue in 2020, up from 1.78 billion dollars in 2019. According to Bloomberg, the company is expected to grow in 2021 and rake in 4.88 billion dollars in revenue, which would represent a revenue growth rate of around 100%.
Nio has a market capitalization of 84.13 billion dollars, which is more than 8 times less than Tesla's 692 billion dollars.
CEO William Li said Nio should reach annual production capacity of 150,000 units by the end of 2021. Longer term, Nio aims to double output to 300,000 per year.
Nio operates in China, the world's largest market for electric vehicle, and it is expected to expand in Europe in 2021. According to JPMorgan, Nio could be expected to grab 30% of the Electric Vehicle market.
ANALYST OPINION (Goldman Sachs/ Credit Suisse/Bank of America): Goldman Sachs maintained a stock price target of $59, while Credit Suisse maintained a price target of $60 a share. In addition, Bank of America maintained a buy call and it increased its price target to $59 a share.
NIO STOCK PRICE ACTION (2018-2020): Since the second half of 2018, when the Nio stock made its debut in the U.S., the stock has risen by whooping 715.15%. The Nio stock hit an all-time high of $57.20 in late November 2020. Since the beginning of 2020 the stock has gone up by amazing 1,346%. Only in 2021, the stock has added around 10.0%.
Nio Inc. stock price daily volatility
Daily stock price volatility has increased to 8.57% per day since the start of 2020.
Since mid-February 2020, when the Coronavirus crisis started to hit the stock markets, the average daily volatility has risen to 8.41%.

Example of calculation based on Volatility for 1.00 Lot (1 lot = 1000 stocks)

Technical Outlook (Nio Inc., Monthly, 2018-2020)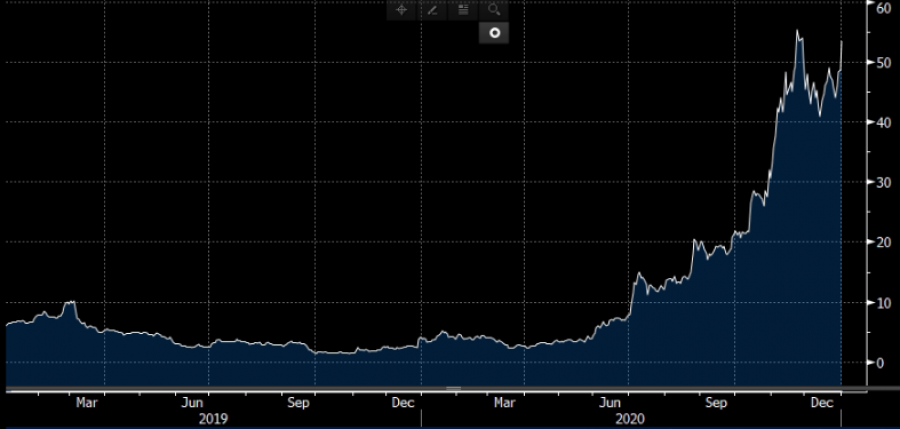 Source: Bloomberg
Current Price: 53.3
| | |
| --- | --- |
| Nio Inc. | Weekly |
| Trend direction | |
| | 80.0 |
| | 70.0 |
| | 64.0 |
| | 43.0 |
| | 37.5 |
| | 33.0 |
Example of calculation based on trend direction for 1.00 Lot*
Nio Inc.

Pivot Points

Profit or loss in $

26,700.00

16,700.00

10,700.00

-10,300.00

-15,800.00

-20,300.00

Profit or loss in €**

21,751.70

13,605.00

8,716.98

-8,391.11

-12,871.80

-16,537.81

Profit or loss in £**

19,677.79

12,307.83

7,885.85

-7,591.06

-11,644.53

-14,961.01

Profit or loss in C$**

34,025.41

21,281.81

13,635.65

-13,125.91

-20,134.89

-25,869.51
* 1.00 lot is equivalent of 1000 units
** Calculations for exchange rate used as of 9:17 a.m. (GMT) 05/01/2021
Fortrade recommends the use of Stop-Loss and Take-Profit, please speak to your Client Manager regarding their use.
*** You may wish to consider closing your position in profit, even if it is lower than suggested one
**** Trailing stop technique can protect the profit – Ask your Client Manager for more details