WEEKLY TREND: UP
Fundamental Overview:
Palladium is most heavily used in the production of catalytic converters integrated into vehicles to curb gas emission and air pollution. Europe and China have recently imposed stricter emission standards, which could require bigger use of Palladium.
CHINA IS THE LARGEST PALLADIUM CONSUMER IN THE WORLD WHICH COVERS ONE THIRD OF GLOBAL AUTOMOTIVE PRODUCTION: Recent data showed that the Chinese economy has continued to recover along with its car industry, which is one of the largest consumers of Palladium. China reported Q4 GDP growth rate of 6.5% year on year, beating expectations for a rate of 6.1%. That being said, the demand for Palladium may rise, which could support Palladium prices.
SUPPLY SHORTAGE:

RUSSIA: It became known that operations at two of Nornickel's largest mines, Oktyabrsky and Taimyrsky, were halted due to flooding by natural groundwater. Nornickel, however, said it has stopped water inflows at its Oktyabrsky mine, putting it on course to resume full production of metals, including palladium and nickel, in early May. The linked Taimyrsky mine will resume output in early June, in accordance with a previously announced plan.

Nornickel reiterated its 2021 production guidance, after cutting its output targets for both metals earlier this month. The drop in palladium production equates to about 6% of global supply, according to Morgan Stanley estimates.

SOUTH AFRICA: Palladium supply is expected to stay lower as South Africa, the second largest Palladium producer in the world, faces a new strain of the coronavirus, which forces some Palladium mines to close again.

PALLADIUM PRODUCTION (2020): 210,000 Kilograms (circa 7,407,532 ounces) down 7.00% from 2019 (227,000):

Russia: 91,000 Kg (43%)
South Africa: 70,000 Kg (33%) (13% down from 2019's 80,700 Kg)
Canada: 20,000 Kg (9.5%)
Rest: 15%

EXPECTED DEFICIT COULD POSITIVELY SUPPORT PALLADIUM PRICES: As demand is expected to stay above supply in 2021, there may be a deficit with the Palladium markets to stay on. This could support the Palladium prices going forward.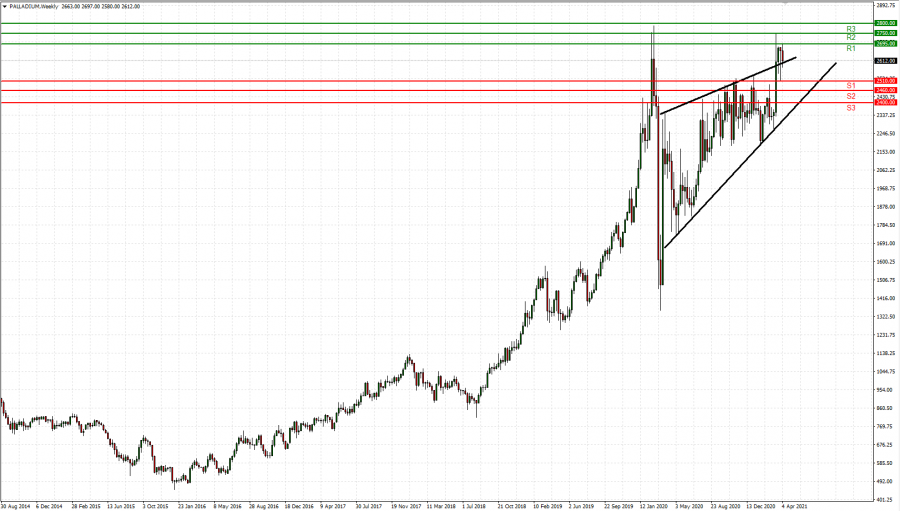 Graph: Palladium, Weekly
Current Price: 2600
| | |
| --- | --- |
| Palladium | Weekly |
| Trend direction | |
| | 2800 |
| | 2750 |
| | 2695 |
| | 2510 |
| | 2460 |
| | 2400 |
Example of calculation based on weekly trend direction for 1.00 Lot*
Palladium

Profit or loss in $

20,000.00

15,000.00

9,500.00

-9,000.00

-14,000.00

-20,000.00

Profit or loss in €**

16,838.28

12,628.71

7,998.18

-7,577.22

-11,786.79

-16,838.28

Profit or loss in £**

14,530.03

10,897.52

6,901.76

-6,538.51

-10,171.02

-14,530.03

Profit or loss in C$**

25,195.20

18,896.40

11,967.72

-11,337.84

-17,636.64

-25,195.20
* 1.00 lot is equivalent of 100 units
** Calculations for exchange rate used as of 10:28 a.m. (GMT+1) 08/04/2021
Fortrade recommends the use of Stop-Loss and Take-Profit, please speak to your Client Manager regarding their use.
*** You may wish to consider closing your position in profit, even if it is lower than suggested one
**** Trailing stop technique can protect the profit – Ask your Client Manager for more details