Advanced Micro Devices ( #AMD ) weekly special report based On 1 Lot Calculation:
GLOBAL SEMICONDUCTOR INDUSTRY:
THE SEMICONDUCTOR INDUSTRY IS CURRENTLY WORTH ~$591B. The global semiconductor market size was valued at USD 591.8 billion in 2022 and is expected to reach around USD 1,883.7 billion by 2032. The Asia Pacific semiconductor market size was valued at USD 241.7 billion in 2022. Semiconductors are critical components in the move to digitization of society, and are used in artificial intelligence, automotive and telecommunications amongst other things.
MARKET POTENTIAL: THE SEMICONDUCTOR INDUSTRY IS EXPECTED TO BECOME A $1.9T DOLLAR MARKET BY 2032: Analysts are forecasting, that at the current rate of growth, the semiconductor industry is expected to reach $1.9 trillion in value that represents an industry annual growth of 12.28% during the forecast period 2023 to 2032.
AMD
THE COMPANY: Advanced Micro Devices, Inc. (AMD) is a prominent American semiconductor company that specializes in the design and manufacturing of microprocessors, graphics processing units (GPUs), and other semiconductor products. In addition to consumer-oriented products, AMD also provides processors for data centers and enterprise computing, making it a significant player in the server and cloud computing markets.
FINANCIAL PROSPECTS: Analyst consensus sees earnings growing by more than 50% over the next two years. Analysts are expecting a 14% year-over-year increase in the company's revenue to $6.4 billion, while adjusted earnings could increase 27%. This could be fueled by something other than just AI.
NEWS AND EVENTS:
EVENT: Q3 2023 EARNINGS RELEASE (EXPECTED: NOVEMBER 7, AFTERMARKET). The company has beat EarningsPerShare (EPS) estimates every time out of the last 8 quarters. Similarly AMD had beat Revenue estimates 7 times out of the last 8 quarters.
AVERAGE STOCK PRICE REACTION AFTER EARNINGS DATE (PERIOD: Q3 2021- Q2 2023): The stock rises by around 11% on average one week after the earrings release date.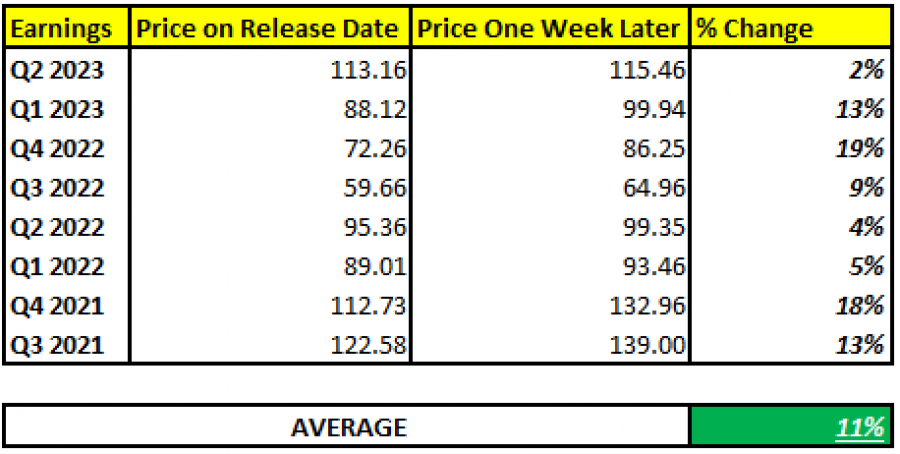 Data Source: MT4
PLEASE NOTES: PREVIOUS PERFORMANCE IS NOT A GURANTEE OF FUTURE PERFORMANCE
EVENT (EXPECTED: Q4 OF 2023): RELEASE OF INSTINCT MI300 PROCESSOR which is the first chip to combine GPU and CPU processing in one data center semiconductor in Q4 2023. Given that the market for AI server chips is currently in its early stages of growth, it could turn out to be a key growth driver for AMD in the long run.
PRICE ACTION:
AMD TRADES 38% BELOW ITS ALL- TIME HIGH OF $164.45. The stock currently trades around $102, providing upside potential of around 60%. The price of stock, however, could decline further.
ANALYST FORECASTS: JP Morgan is forecasting $120. BofA is forecasting $132, Morgan Stanley is forecasting $138, Wedbush is forecasting $155
AMD (#AMD), October 03, 2023
Current Price:101.00
| | |
| --- | --- |
| AMD | Weekly |
| Trend direction | |
| | 160.00 |
| | 130.00 |
| | 111.00 |
| | 92.00 |
| | 87.00 |
| | 83.00 |
Example of calculation based on weekly trend direction for 1 Lot1
AMD

Pivot Points

Profit or loss in $

59,000.00

29,000.00

10,000.00

-9,000.00

-14,000.00

-18,000.00

Profit or loss in €²

56,373.29

27,708.90

9,554.79

-8,599.31

-13,376.71

-17,198.63

Profit or loss in £²

48,867.15

24,019.45

8,282.57

-7,454.31

-11,595.60

-14,908.62

Profit or loss in C$²

80,868.06

39,748.71

13,706.45

-12,335.81

-19,189.03

-24,671.61
1.00 lot is equivalent of 1000 units
Calculations for exchange rate used as of 10:00 (GMT) 03/10/2023
Fortrade recommends the use of Stop-Loss and Take-Profit, please speak to your

Senior Account Manager

Client Manager

regarding their use.
You may wish to consider closing your position in profit, even if it is lower than suggested one
Trailing stop technique can protect the profit – Ask your

Senior Account Manager

Client Manager

for more detail