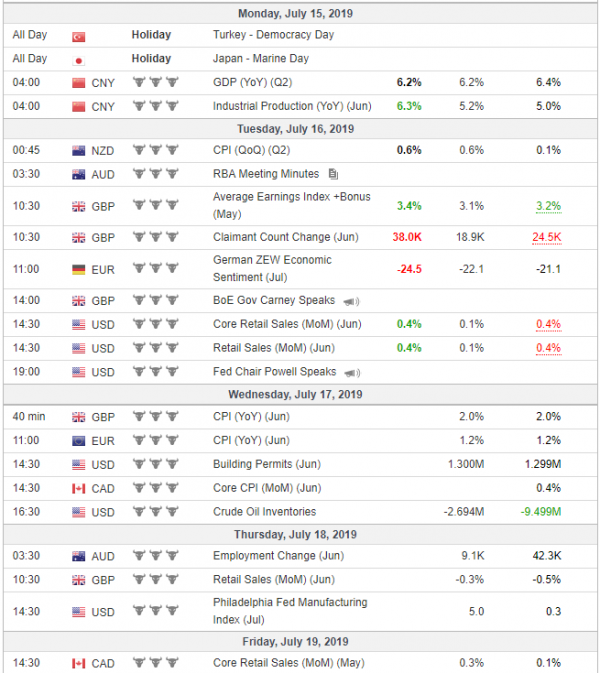 The euro slightly strengthened against the dollar last week. The possibility of a looser monetary policy by the ECB, which includes further rate cuts, put pressure on the euro on Monday and Tuesday. In addition, economic data has continuously confirmed a slowdown in the euro zone over the last few months.
The British pound weakened against the dollar. The Bank of England Governor Mark Carney signaled that key interest rate might be cut in case of a disorderly Brexit. UK jobs data published this Tuesday also weighed on the pound.
The Japanese yen strengthened against the dollar due to renewed trade tensions between Washington and Beijing and economic slowdown in China. Overall, the dollar index was little changed last week.
Stock indexes ended up last week with the S&P 500 hitting a new all-time high with investors hoping for interest rate cuts by the Fed this year. The focus is now on the earnings season which the banks kicked off this week.
Gold prices slightly rose as the uncertain outcome of talks between the US and China, fears of a disorderly Brexit, tensions in the Middle East and the prospect of lower interest rates all provided support for gold prices.
Oil prices slightly rose last week on tightening of the U.S. oil inventories and halts in production in the Gulf of Mexico due to Hurricane Barry. However, oil prices were under pressure on Monday and Tuesday as data showed that second-quarter economic growth in China slowed to 6.2% from a year earlier, the weakest pace in at least 27 years.