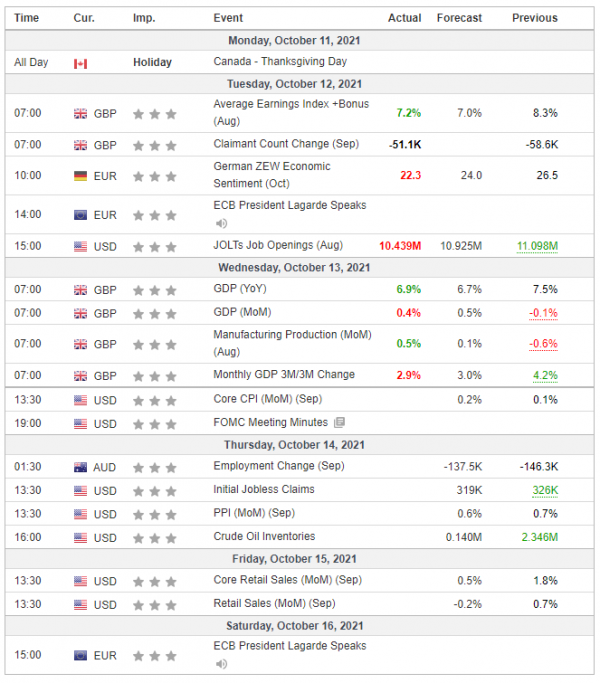 The euro consolidated (further) losses against the dollar. The European Central Bank said that "the medium-term inflation dynamic is too slow, not too fast" and that the trigger for monetary policy action is not there. High energy costs in Europe continued to pull down the shared European currency.
The pound recovered as BoE's Michael Saunders said during the weekend that households should get ready for "significantly earlier" interest rate hikes as inflation pressure mounts.
The USD/JPY advanced to its highest level since late-2018 and consolidated above 113 on Tuesday. The benchmark 10-year US Treasury bond yield surpassed a four-month high, above 1.6%, fueling the USD/JPY rally. Overall, the US currency still hovers around a one-year high versus major rivals in spite of the disappointing NFP data released on Friday.
Gold prices were little changed fluctuating in a very narrow range above $1,750 over the last two weeks ahead of the US CPI data on Wednesday.
US stock indexes remained flat but quite volatile. The earnings season will kick off this week, with Morgan Stanley reporting on Thursday and Goldman Sachs on Friday.
Oil prices extended big gains amid a rebound in global demand that is contributing to energy shortages in major economies. Power prices have surged to record highs in recent weeks, driven by widespread energy shortages in Asia, Europe and the United States, while the energy crisis in China is expected to last until the end of the year. However, OPEC+ is sticking to plans to restore output gradually rather than boost it quickly.