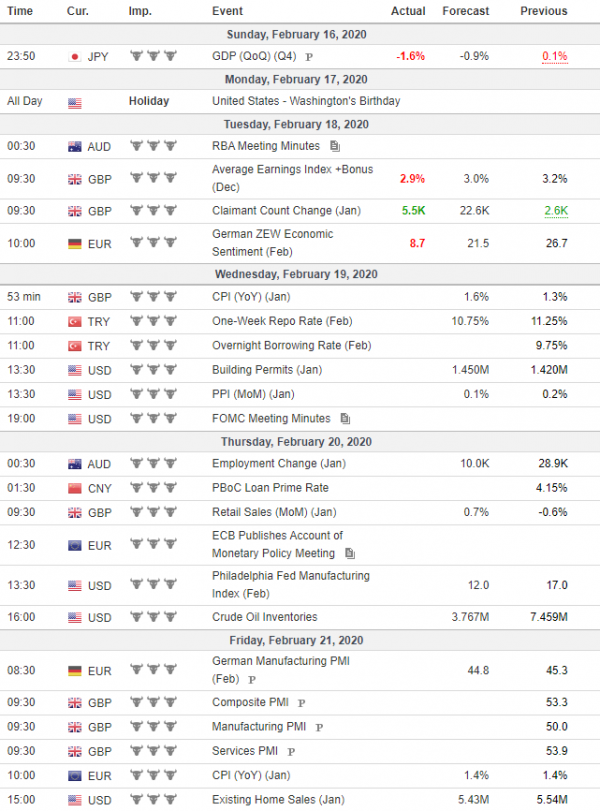 The euro continued its free fall against the dollar last week. German GDP figures were below expectations again. The preliminary Q4 data revealed stagnation in the euro zone's engine (Germany) though equally disappointing 0.1% growth was expected.
The British pound strengthened last week. Key macroeconomic readings were much higher than expectations. Preliminary fourth quarter GDP in the UK was higher, while the trade balance was modestly positive. However, the pound eased on Monday following a statement from the UK Prime Minister Boris Johnson's spokesman, who said that Britain might not be willing to (necessarily) sign a trade agreement with the EU at the end of the transition period later this year.
The Japanese currency slightly strengthened against the dollar. The corona virus epidemic in China boosted demand for the yen. However, weak GDP data from Japan pared some of the yen's gains on Monday.
Gold prices rose sharply as exchange traded funds that invest in gold continued to buy the yellow metal in anticipation of a burst of the stock market bubble, pushing Gold to a two week high.
Overall, the dollar index surpassed 99 points on Tuesday confirming that the reserve global currency is still in very high demand as the US economy remains resilient amid global threats.
The Turkish Lira fell lower as Wednesday's central bank policy decision loomed and investors worried over tensions in Syria's Idlib, where Ankara is bulking up its military. A Reuters poll showed that Turkey's Central Bank is expected to cut its policy rate by 50 basis points to 10.75%.
Stock indexes eased as nervousness over all-time high valuations prevailed. Apple issued lower earnings guidance on Monday, stating that ongoing quarterly revenue expectations will not be met due to the corona virus outbreak.
Crude oil prices initially rose but receded strongly on Tuesday, pressured by concerns over the ongoing Chinese health crisis on oil demand and a muted response by OPEC+ to support the market. The IEA reported that first-quarter oil demand is likely to fall by 435,000 barrels, its first quarterly decline since the financial crisis in 2009.