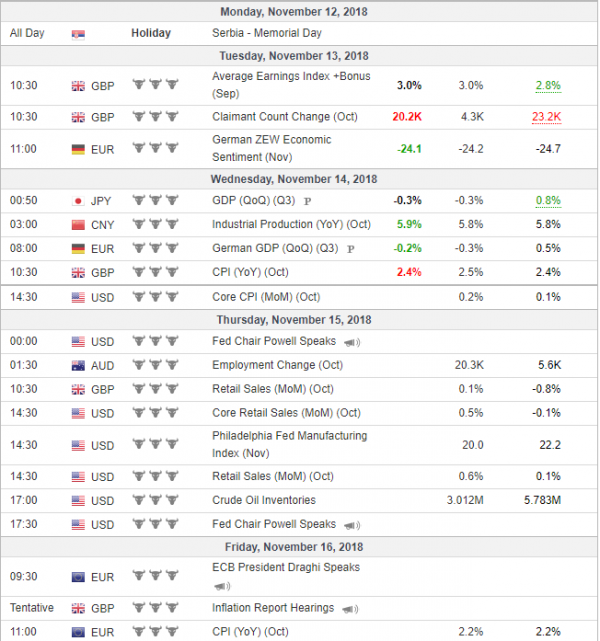 The euro slumped to its weakest level in more than 16 months as the European Commission looked ready to escalate its budget battle with Italy. Deputy Premier Matteo Salvini said Sunday his government could halt European Union budget decisions if the EU continue to show what he considers disrespect to his countrymen.
The dollar turned higher last week propelled by Euro and pound weakness. The US Mid-Term Elections resulted in a split Congress, as expected. The US Dollar lost ground on the Democrats' win of the House but recovered quickly. The Federal Reserve kept interest rates at current levels on Thursday, but remains on track for a quarter percentage point hike in December.
The pound slipped to its lowest level in more than a month as pressure mounted on U.K. Prime Minister May to abandon her Brexit divorce proposal or face defeat in parliament. In another blow for the UK's Brexit strategy it appears that there will no special Brexit summit this month to put forward final proposals before the UK is scheduled to leave the EU at the end of March.
The Japanese Yen turned lower in a week that wasn't good for safe haven currencies, as the currency lost ground against both the US dollar and the Euro.
The Dow Jones Industrial Average rose 2.8% for the week—its best performance since March 9. The S&P 500 added 2.1% over the week but U.S. stocks slumped Friday as renewed global growth concerns weighed. Popular FANG stocks—Facebook, Amazon.com, Netflix and Google parent Alphabet were among the losers.
The Turkish Lira ended last week lower as emerging market currencies fell to their lowest in a week. However, the Lira has recovered strongly since plunging to a record low in August.
Gold prices fell to new monthly lows due to a strengthening Greenback last week.
Oil prices continued to slide, with a decline of more than 20% from its Oct. 3 high. On Friday, crude lost 0.8% to settle at $60.19 a barrel, its 10th consecutive session of losses—and its longest losing streak since 1984. Early next month OPEC will meet to decide whether to restrict what some analysts consider to be, an oversupplied market.