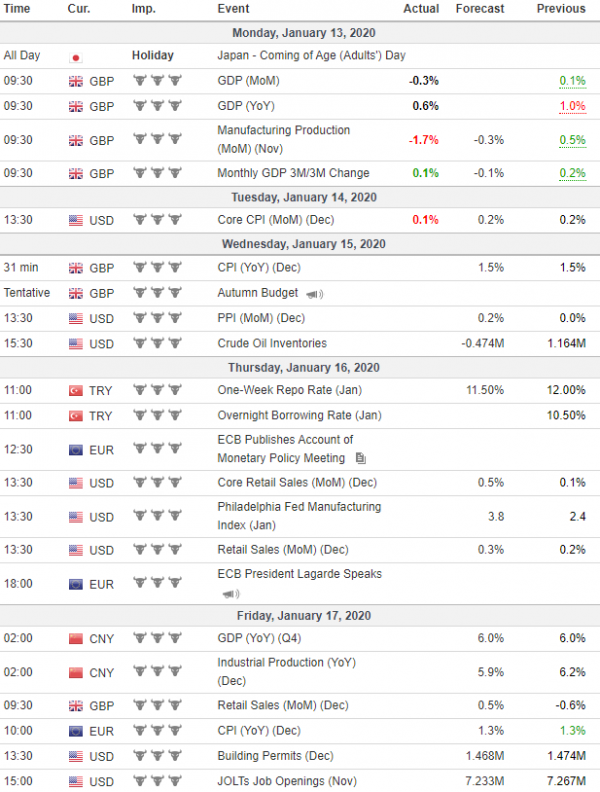 The euro slid against the dollar but recovered on Friday when poor NFP data showed a decelerating trend on the US labor market, causing the dollar to reverse its fortunes on that day.
The British pound fell steeply against the dollar. Weak GDP figures on Monday and dovish comments of Mark Carney last week sent the British currency down. His words about the potential need of a "prompt" monetary response were followed by calls for an additional rate cut, currently set at 0.75%.
The Japanese yen weakened strongly ahead of the expected signing of the trade deal between the U.S. and China, and after tensions between the US and Iran eased last week.
Overall, the dollar index rose above 97 points with traders looking forward to crucial inflation data this week.
Gold and silver prices fell sharply amid de-escalation of tensions in the Middle East between the US and Iran and on profit taking due to high appreciation marked in previous days.
Stock indexes touched new all-time highs. Investor optimism on a first phase trade deal due to be signed imminently, coupled with bullish sentiment on tech giants like Apple, Microsoft and Tesla helped technology stocks continued their march higher.
Crude oil prices fell sharply below 59 dollar a barrel on Tuesday after US and Iran retreated from the brink of direct conflict. Oil traders await the signing of the phase one trade deal between the U.S. and China on Wednesday, which could contain promises by Beijing to buy more crude from the U.S. This week crude prices were also supported by official data from China early on Wednesday showing that Crude imports rose by 9.5% over last year, proving that demand for oil remains very strong in the country.