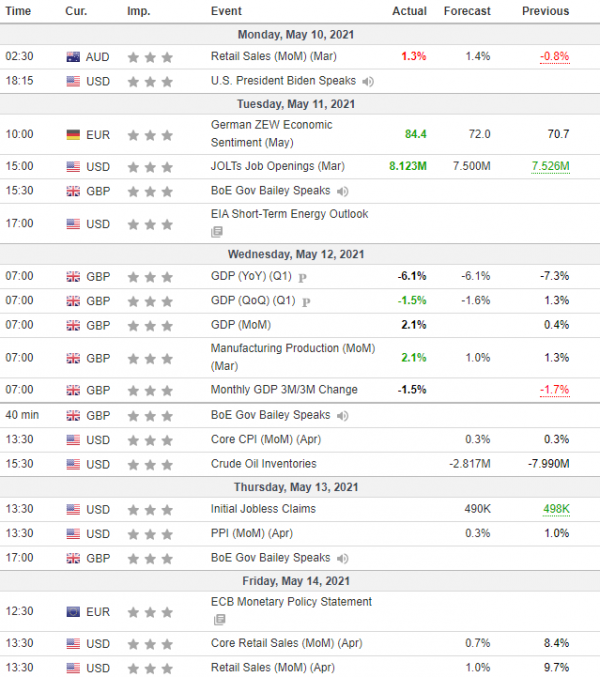 The euro strengthened against the dollar. Very disappointing NFP figures released on Friday showed that the recovery of the US labor market and the overall economy may be slower than anticipated. Benefiting from upside momentum, the euro remained highly elevated on Tuesday.
The British pound was cheered by the outcome of the elections for the Scottish Parliament. The Scottish National Party fell one place short in Parliament to gain a majority. The election results significantly lowered the odds for a second referendum on Scotland's exit from Britain. Britain marked zero new coronavirus deaths for the first time in more than a year and UK PM Johnson's announced tempered lockdown measures on Monday.
The Japanese yen strengthened last week. Rising number of Covid-19 cases in Japan ahead of the Olympics is a matter of concern for the yen. On the other hand, the weakening dollar across the board supported the downward trajectory of the yen.
Gold prices rose strongly surpassing the $1,800 level. After the release of seemingly bad NFP data on Friday, it became clear that inflation and the increase of Federal funds rate is not on the agenda. The opportunity cost of keeping the yellow metal dropped, pushing the gold price half-way between the 1,800 – 1,900 range.
The Dow Jones and S&P500 retreated after they hit new all-time highs on Monday. The earnings season has shown excellent results but the vertigo of high altitude exerted irresistible pressure on stock prices the same day. This week, Walt Disney and Coinbase are scheduled to release their financial reports.
Oil prices traded sideways in the 63-66 channel. Crude oil has surged on expectations the Covid-19 vaccination will allow lockdowns and curbs to be lifted with a promising summer driving season. However, it dropped on Monday after Colonial Pipeline Co., a key supplier of fuels to the eastern U.S., reported that a destructive cyberattack halted distribution. It also stated services will be mostly restored by the end of this week.