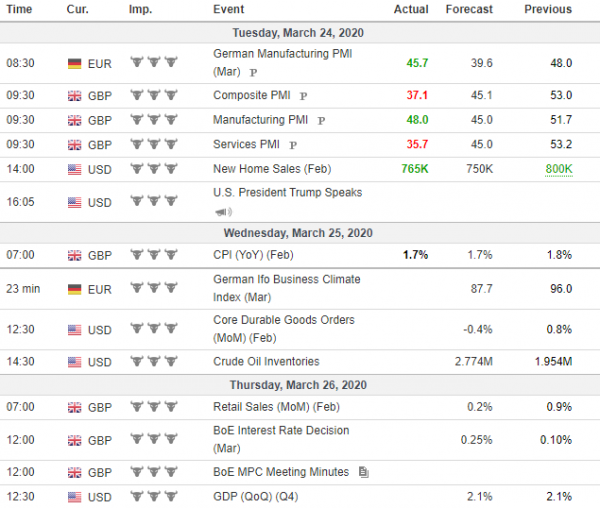 The euro weakened last week against the dollar on strong dollar demand. However, it recovered on Monday and Tuesday as the Fed announce a massive asset buying program in an effort to prop up the cooling US economy.
The British pound fell sharply as the growing number of infected people in the UK and the lax response of the government spooked investors about the prospects of the post-corona and post-Brexit UK.
The Japanese yen continued to weaken against the US currency. The Japanese finance minister made comments on the ongoing unusual situation of investors' anxiety over the coronavirus outbreak, which has triggered an inflow of funds into dollars from riskier assets.
Gold prices bottomed out last week and reversed course on Monday after the announcement of the Fed's extraordinary measures. On Tuesday, the yellow metal traded again above 1600 dollars per ounce.
Major world stock indexes were in free fall until Monday, loosing some 25 - 35 percent since the beginning of this year.
Crude oil prices fell sharply and touched multi-decade lows as the combined effect of global pandemic and the Saudi-Russian oil price war indicated a huge oversupply in months to come. However, the readiness of Texas, the biggest US producer, to cooperate with the OPEC in an effort to boost prices, received some attention from traders.