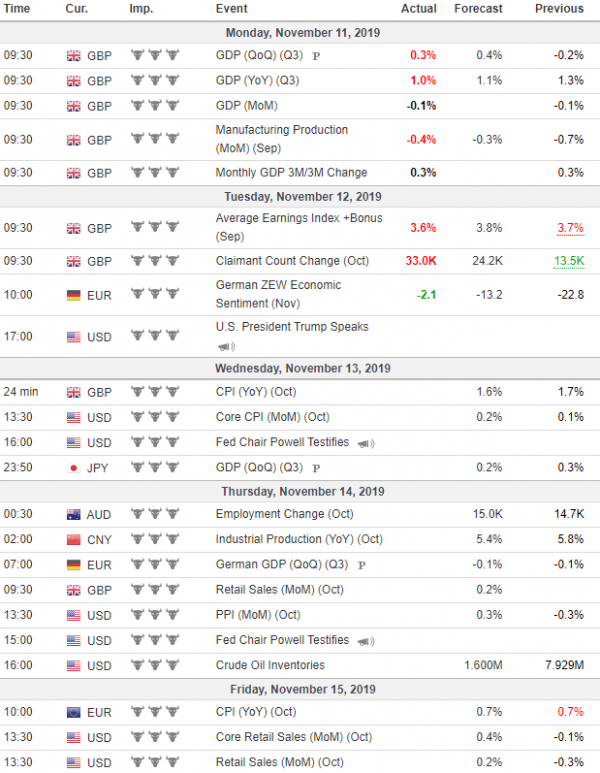 The dollar strengthened against the euro last week on hopes that behind-closed-doors negotiations between U.S. and China will soon be concluded. Strong Services PMI also underpinned the dollar.
The British pound weakened as the dollar strengthened across the board and after two members of the Bank of England's monetary board voted for a rate cut, which currently sits at 0.75%. In addition, the UK GDP for the third quarter contracted 0.3%.
The Japanese yen remained flat around the 109 level. Improving US Sino relations and rising US government bond yields undermined the appeal of the Japanese currency.
Overall, the dollar index, which follows the performance of the US currency compared against six major global currencies, jumped above the 98 point mark hitting close to a one month high.
Gold prices were in free fall mainly due to hedge funds' selling activities. Thawing geopolitical tensions and a pause in monetary policy easing pushed investors to dump the yellow metal.
US stock indexes ended slightly higher. The ongoing Q3 earnings season is nearing its end, while high historical valuations making investors hesitant to bid up stock prices higher. This week cannabis stocks earnings begin to close out the season.
Crude oil prices were mainly flat. Lingering Trump tariff rollback suspense and discovery of a new oil field by Iran put a lid on oil prices around the 57 dollar mark, while hopes of a trade deal boosted investor sentiment. However, improved sentiment diminished after Trump said on Friday that he had not agreed to end tariffs on Chinese goods as part of a trade deal.