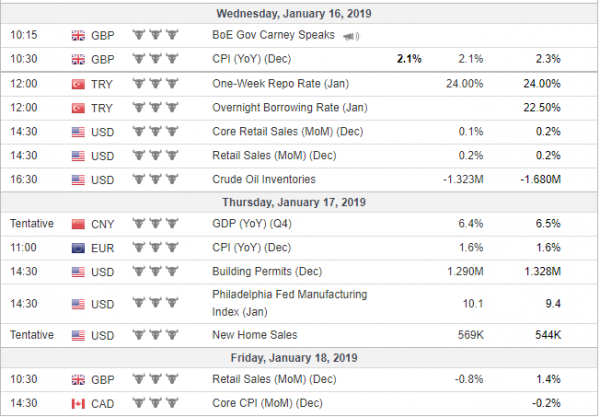 The EUR/USD currency pair was quite volatile. Initially, the euro strengthened on a weakening dollar, but worries over the decelerating euro zone economy and Brexit pressured the common European currency on Tuesday.
The British pound slightly strengthened ahead of the historic Brexit vote on Tuesday. Prime Minister Theresa May urged lawmakers on Monday to reconsider her deal, but parliament seems determined to reject it.
The Japanese yen traded in a narrow range against the dollar, but was largely unchanged over the week.
Overall, the U.S. dollar was practically unchanged as it fell sharply last week, but bounced back over the last few days.
The Turkish Lira turned lower amid moderate volatility, as the sharp rhetoric of US President Trump, which threatened to economically devastate Turkey if attacks on Kurds in the Middle East region continue, caused the currency to wobble.
U.S. indexes consolidated last week posting a four day winning streak, although the slowing Chinese economy and unresolved trade dispute between the US and China still remain as a drag on equities and the global economy. Citigroup and JP Morgan which reported this week posted mixed earnings results. Other major banks will announce results in the coming days. Investors will be keeping a close eye on Netflix which will report on Thursday aftermarket.
Gold traded higher as the precious metal continues to find some safe haven support, even as stocks recovered last week.
Oil prices continued their recent volatility but mounted a recovery last week on reports that OPEC producers are determined to the curb supply glut. However, worries that China's 2019 growth rate could be one of the lowest since 1990 weighed on Crude prices on Monday and Tuesday.