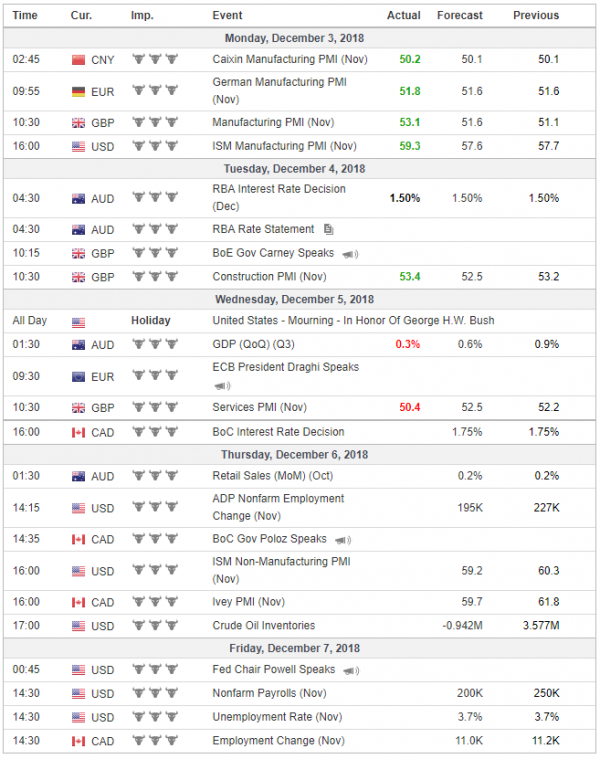 The euro was flat against the dollar last week. However, the common European currency benefited from a receding dollar, rather than strong economic data from the Eurozone.
The British currency slightly recovered on optimism over a Brexit deal and supported by better-than-expected manufacturing and construction data. A Parliamentary vote on British Prime Minister Theresa May's deal with the EU is scheduled for December 11.
The Japanese Yen traded stable to lower against a stronger US dollar mainly due to the G20 summit and trade fears towards the end of the week.
Overall, the U.S. dollar fell last week on easing U.S.-China trade worries. The dollar index fell after U.S. and Chinese Presidents, Trump and Jinping, promised to halt the introduction of new tariffs for 90 days at the G20 Summit in Buenos Aires. Dovish signals from the US Federal Reserve indicated a possible pause in interest rate hikes after a widely-expected December increase.
The Turkish Lira strenghtened against the dollar, but pared some gains on Monday and Tuesday.
Gold prices rose last week on a slightly weaker dollar, hitting the $1,240 level on Tuesday.
US stocks rose last week, but continued their recent volatility with tech stocks like Apple remaining under pressure. The Wall Street Journal raised fears that Apple could face trade headwinds, reporting that President Trump suggested he could introduce tariffs on iPhones and laptops imported from China. Questions remain whether a US and Chinese agreement to suspend tariffs for 90 days will resolve the dispute in the long term.
Oil prices rose last week ahead of expected output cuts by OPEC and a mandated reduction in Canadian supply. The Canadian province of Alberta forced producers to cut output by 9%, to deal with a pipeline bottleneck that has led to a crude build up. Russia and Saudi Arabia agreed on the need for production cuts to stabilize markets. OPEC meets on December 6th to decide to cut crude oil production.