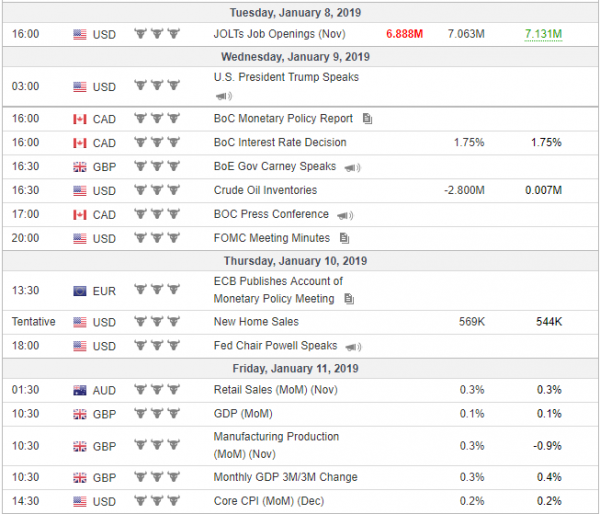 The euro recovered from its sharp decline on the first trading day of this year. However, the euro zone economy showed more signs of slowing. Euro CPI was lower than expected, while German industrial production last Tuesday showed further signs of contraction.
Similarly, the British pound recovered on a weaker dollar. Next week, the UK Parliament is expected to vote on Prime Minister May's Brexit deal. Some of her own Conservative party have already stated their opposition to the deal with the EU. This limits the chances of the UK Prime Minister ending the Brexit saga after two years and a half.
The Japanese yen lost some earlier gains last week against the dollar, on easing trade tensions between the U.S. and China.
Overall, the U.S. dollar fell last week. Expectations are growing among investors that the Fed will pause its rate hike cycle. The Fed is not on a preset path of rate hikes according to its Chairman Jerome Powell and was ready to change course, depending on data. On the other hand, excellent NFP data on Friday confirmed the strength of the US economy.
The Turkish Lira weakened last week with an apparent increase in volatility as emerging currencies weakened. Next week the Turkish Central Bank will hold a crucial meeting to set interest rates.
Much to the relief of investors U.S. stocks rose last week on hopes that the US and China would progress in their two-day meeting in Beijing and a stronger than expected jobs report. Fed Chairman Powell dovish statement on Friday also supported stocks.
Oil prices made a solid recovery last week on supply cuts by major OPEC producers and hopes that easing trade tensions between the U.S. and China would boost demand outlook. Reuters reported that OPEC oil supply fell in December by 460,000 barrels per day, to 32.68 million.