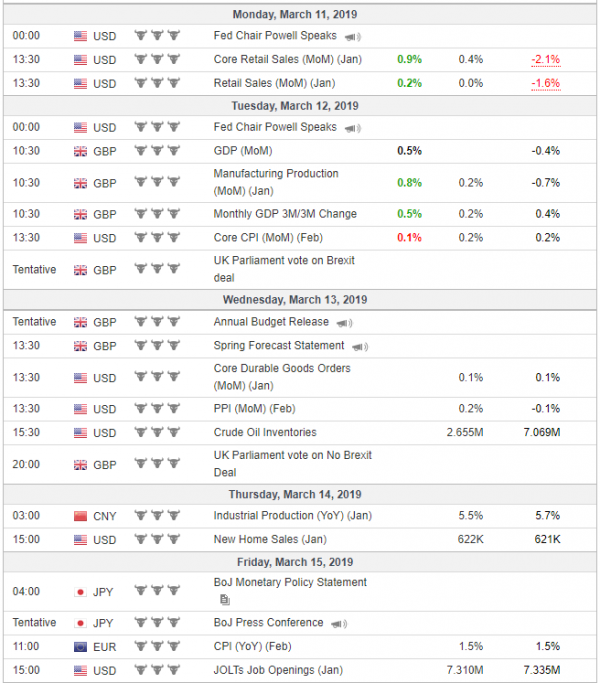 The euro weakened sharply against the dollar last week as the ECB at its policy meeting remained dovish. The bank offered a new monetary stimulus – basically, cheap loans to European banks. However, soft NFP data on Friday and weaker inflation data on Tuesday provided support for the European currency.
Amendments to Brexit deal secured by Prime Minister May helped the declining British pound on Monday, ahead of a key Brexit vote in the UK Parliament scheduled for Tuesday evening. However, sterling lost its earlier gains, as it became clear that the revised Brexit proposal did not have the support of the opposition Labour party or some pro Brexit MPs.
The Japanese yen slightly strengthened ahead of this week's Bank of Japan interest rate decision and policy statement. Interest rates are expected to remain at current levels of minus 0.10 percent.
Overall, the U.S. dollar index slightly rose against its major peers last week, even though a mixed jobs report, showed a disappointing number of new jobs were created last month.
Gold prices hovered slightly below the 1300 level as investors remained concerned about the state of the global economy.
The Turkish Lira traded lower as the Turkish economy sank into recession in the fourth quarter of 2018, according to figures released by the national statistics authority March 11.
U.S. indexes were in a downtrend last week but recovered on Monday following strong gains in Apple and Facebook. Better-than-expected January U.S. retail sales, offset a steep decline in Boeing, whose stock plummeted following the crash of one its passenger planes in Ethiopia on Sunday.
Oil prices were little changed last week, but were supported on Monday as Saudi Energy Minister al-Falih stated that Saudi Arabia will extend its supply cuts, much lower than its 10.3 million ceiling. The worsening economic situation in Venezuela also kept Crude prices on the upside.