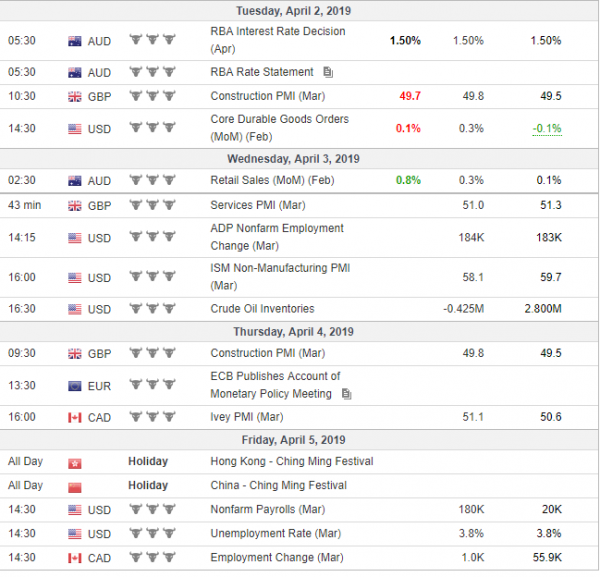 The euro was in free fall against the dollar last week. A slew of economic indicators in Germany and the euro zone showed that the European economy has been decelerating at a fast rate. On Monday, German manufacturing PMI disappointed while the US PMI was higher than expected. This, coupled with rising long-term yields, pushed the euro below the 1.12 level.
The British pound weakened as the third attempt of the Prime Minister Theresa May to ratify a deal with the EU did not receive support from Parliament. The scenario of a no-deal Brexit on April 12 remains a threat, although if UK lawmakers can't agree, it's likely that Prime Minister May will go back to the EU to seek another extension to its Brexit date.
The Japanese yen weakened against the dollar as risk on sentiment prevailed.
The Turkish Lira dropped to a weekly low against the dollar as President Erdogan's ruling party lost a number of major cities including Ankara in local elections.
Gold prices fell sharply as the rising dollar and risk off sentiment dampened the appeal of the yellow metal.
U.S. indexes rose sharply last week as the yields on long term bonds recovered while the prospects of the ongoing trade talks between the US and China instilled confidence among investors.
Oil prices rose significantly last week and confirmed new highs, well above the 60 level. Demand from China looked firm, while the production level in OPEC fell to a four-year low, Reuters reported on Monday. U.S. oil rig counts decreased by eight units on Friday, to 816 in total, the lowest level in a year.