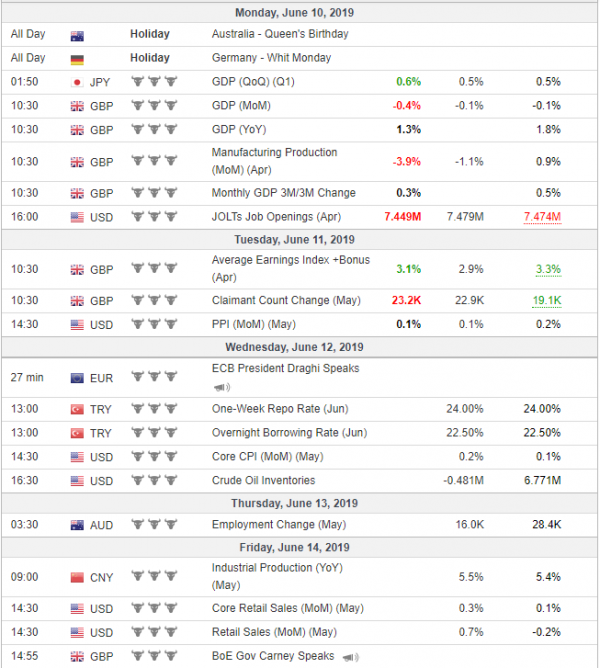 The Euro continued to move higher last week, despite mixed to negative economic data from the Eurozone and the European Central Bank's decision to keep interest rates at 0.25%. Analysts point to the fact that the Euro's two rivals the pound and the dollar were both under pressure last week.
The dollar fell on dovish statements from Fed officials last week and upon a much worse than expected jobs report on Friday which put pressure on the Greenback. Some traders believe that we may see as many as three interest rate cuts from the Fed this year. On the other hand this week Goldman Sachs stated it doesn't believe that interest rates will be cut in 2019.
The Pound continued to decline as the UK Prime Minister leadership contest moves into gear. Former foreign secretary Brexit supporter Boris Johnson is the favourite to succeed Theresa May who will stand down as Prime Minister on July 22nd. Worse than expected GDP data in the UK early this week has put the pound under additional pressure and the Euro Pound currency pair traded close to a five month high on Tuesday.
The Japanese Yen was broadly unchanged, supported by a softer dollar, but fell earlier this week after Japanese Bank Governor Kuroda's statement that the bank has more than enough ammunition for monetary stimulus if necessary.
The Turkish Lira continued to lose ground against a basket of other currencies as President Erdogan claimed he had no intention of cancelling an order for a Russian made missile program, despite the anger of the United States. However, losses were being pared ahead of Wednesday's Turkish Central Bank meeting to set interest rates. Most analysts believe the key interest rate will remain at 24%, which would be seen by investors as a small victory for the independence of the bank against the Turkish President who wants rates to be cut.
Gold prices climbed last week and hit their highest levels since April at the beginning of this week, but have fallen since as some trade tensions calmed, with Mexico agreeing to improve border security to prevent US tariffs being imposed upon the country.
US stocks powered higher as markets put US China trade war fears to one side and the US dropped plans to impose tariffs on Mexico. While global growth is a concern, investors are focusing on Fed interest rate cuts this year to prevent the US economy slowing down.
Crude oil dropped to its lowest level since January before recovering to finish slightly higher over the week in volatile trading. Prices are being pressured by the prospect of decreased global demand and oversupply, particularly from the US. In order to prevent oversupply Russia stated that it wants to agree another extension to its deal to limit production with OPEC at the next full OPEC meeting, due to take place in late June or early July.