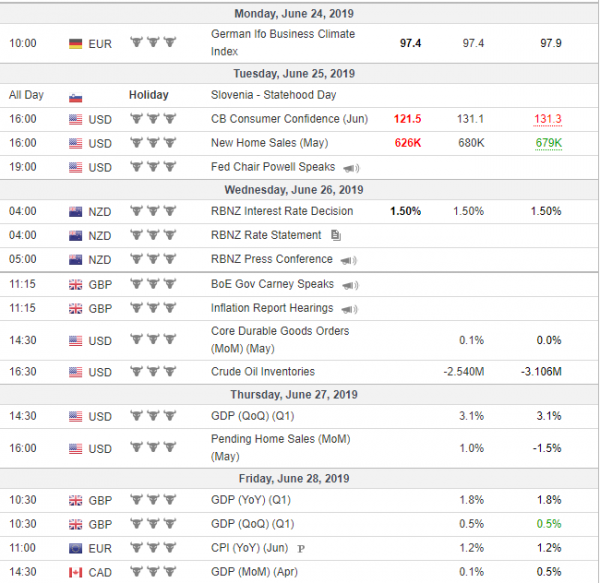 The dollar sharply weakened against the euro last week as the Federal Reserve signaled the loosening of its monetary policy. Market participants are positioned for a rate cut next month and possibly two more by the end of the year. The dollar index fell to its lowest level in three months.
The British pound rose on a declining dollar. However, no-deal Brexit fears capped gains as the hard Brexit candidate Boris Johnson gained momentum in the Tory party leadership contest. Johnson is a hot favourite to beat his opponent Jeremy Hunt next month to become Prime Minister.
The Japanese yen strengthened further against the dollar supported by increasing tensions between Washington and Tehran.
The dollar Turkish Lira currency pair traded firmly lower last week mainly on dollar weakness, but the announcement that the opposition beat President Erdogan's ruling party to win the re-run of Istanbul's municipal elections boosted the Lira early this week. Analysts believe the currency was supported by the President gracefully admitting defeat.
Gold prices strongly rose last week hitting a six-year high upon expectations of rate cuts and increased tensions in the Middle East.
U.S. stock indexes pushed higher last week with the S&P500 hitting a record high, as investors continued to cheer the Fed decision to make a switch in its monetary policy.
Oil prices sharply rose last week. OPEC and non-OPEC states are inclined to extend their supply cut agreement at the meeting to be held on July 1 and 2 in Vienna. However, Russia's Energy Minister Alexander Novak stated on Monday that his country would continue with its wait-and-see approach on the future of the OPEC+ deal, which helped halt the rally. Signs that US and China may try to find a solution for their mutual relations at the forthcoming G-20 meeting in Japan also provided support to oil prices.