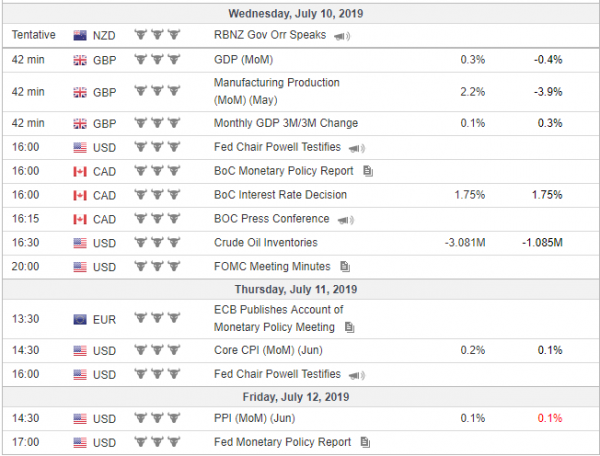 The Eurodollar fell sharply lower last week as the dollar jumped higher against a basket of other currencies following the better than expected Jobs report. With the US economy still appearing to hold up dovish investors who were hoping for a higher number of interest rate cuts were disappointed, as traders bought the dollar.
The British pound fell slightly unchanged last week as the UK economy showed more evidence of being negatively impacted by Brexit, as Services PMI, Construction PMI and Manufacturing PMI economic data were all below expectations. Meanwhile the conservative party Prime Ministerial leadership campaign is continuing, while the Brexit date of October 31st looms.
The USD Japanese Yen currency pair moved higher as the Bank of Japan Governor Kuroda stated again this week that the bank will continue with low interest rates for as long as is needed to stimulate economic activity in the country.
The USD/TRY currency pair traded marginally higher last week with the Lira still feeling the effects of the previous weekend's assurance from President Erdogan that there would be no US sanctions on the country. This past weekend though the Turkish national bank governor was sacked reportedly for not being willing to cut interest rates. As a result the Lira has fallen sharply in value.
Stocks rose again last week hitting another all time high on optimism of sharper interest rate cuts both this month and an anticipated further two before the end of the year. On Friday the publication of the better than expected Non Farm Payrolls data changed sentiment, bringing down investors' expectations. Markets are also looking to trade talks this week for price direction.
Gold prices moved higher, but didn't manage to break through the previous week's close to six year high. Until Friday Gold was supported by the prospect of a number of interest rate cuts this year, as well as by ongoing geopolitical conflicts in the Middle East related to oil exporter, Iran.
Crude Oil prices slipped last week even after OPEC and its allies official announced the already expected continuation of the existing supply cuts until next March, as weaker data in the US had investors worried that a slowing global economy could dent oil demand causing some profit taking from oil traders.