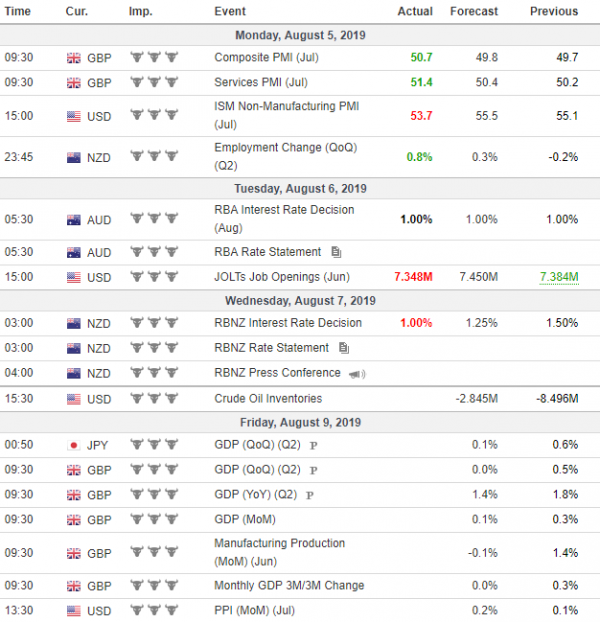 The euro strengthened against the dollar last week, exhibiting very high volatility. The Federal Reserve cut interest rates for the first time since 2008 but Fed Chairman Jerome Powell sent a confusing signal to investors, saying that the cut does not represent the start of a lengthy easing cycle but also said the Fed was going to do whatever it takes to sustain expansion.
The British pound fell against the dollar but begun to consolidate at a much lower level. Boris Johnson's deputy said over the weekend that the UK government is now working on the assumption that there won't be an agreement with the EU.
The Japanese yen benefited from increased demand for safe haven currencies. However, Japan's top official warned investors on Monday that Tokyo was ready to intervene in the currency market if excessive yen gains threatened to hurt the export-reliant economy.
Overall, the U.S. dollar fell last week ending sharply lower as most analysts believe it's highly likely that the Fed will again cut interest rates next month to prevent any economic slowdown due to trade war.
US stock indexes declined steeply. Presdient Trump announced new tariffs of 10% on China. Beijing then devalued its currency and confirmed it is suspending agricultural product purchases from the US, in response to newly imposed US tariffs to be effective September 1.
Gold prices rose sharply reaching their highest level since May 2013 on trade tensions and the prospect of another interest rate cut next month.
Oil prices fell sharply last week on deteriorating relations between the US and China. On Thursday alone, WTI Crude Oil lost 8%, marking its worst day since February 2015. A poor demand outlook is weighing on oil prices.