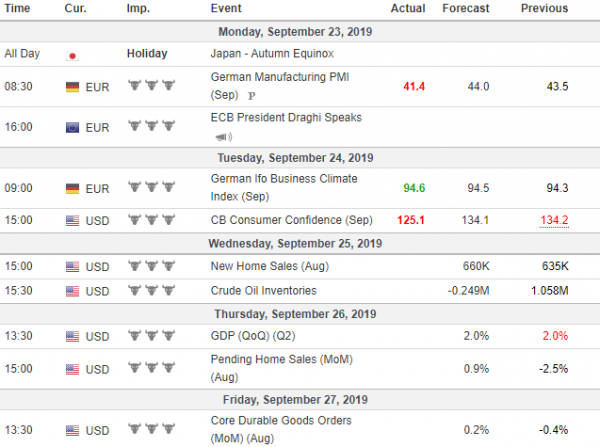 The euro continued to slide against the dollar. Concerns about slowing euro zone growth continued to weigh on the common European currency as a glut of data from Germany and France was below expectations.
The British pound was little changed last week. U.K. Supreme Court ruled on Tuesday that Prime Minister Boris Johnson acted unlawfully when he suspended parliament just weeks before Brexit with the UK currency recording high volatility.
The Japanese yen strenghtened as the Bank of Japan decided not to further ease its monetary policy, while global uncertainties additionally helped the yen gain some ground alongside lower US Treasury yields.
Overall, the dollar index was a little higher after the US Federal Reserve cut interest rates by a quarter of a percentage point on Wednesday. However, the Fed's 'dot plot' of their projections for rates doesn't show any consensus for further cuts this year, although investors are expecting more cuts.
Gold prices rose as risk off sentiment prevailed as the markets absorbed the Fed rate cut and the Chinese trade delegation unexepctedly cancelled a visit to U.S. farms in Montana, which was meant to prepare for further negotiations between senior officials next month.
US stock indexes were little changed as mixed messages from the Fed boosted concerns among investors that further cuts may not be warranted in the short term.
After a sharp rally last week, crude oil prices consolidated around 58 dollars a barel. Saudi officials commented that the kingdom had already restored around 75% of output from their main crude processing facility. U.S. sent military troops in the Gulf region to strengthen Saudi Arabia's air and missile defenses. Secretary of State Mike Pompeo stated on Sunday that the troops are for "deterrence and defense".