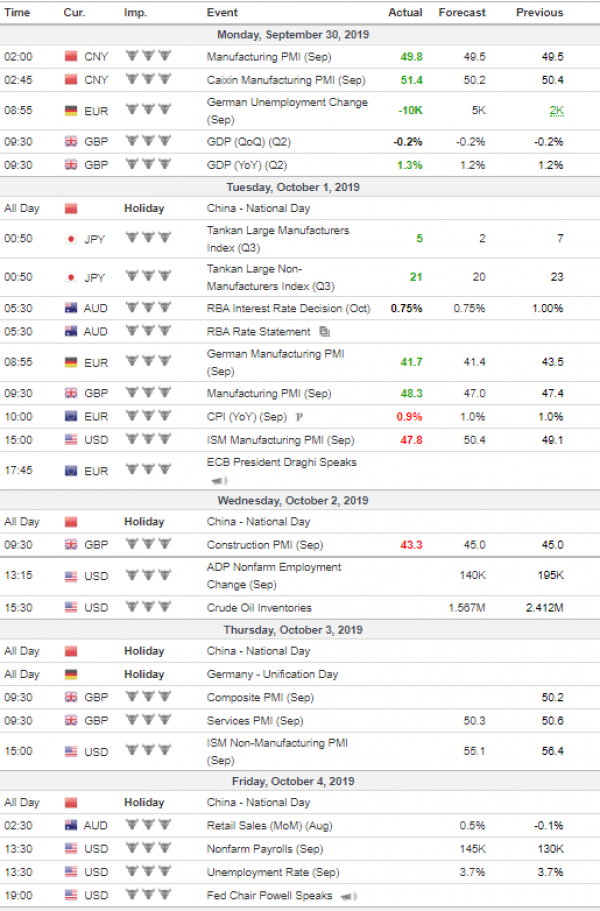 The euro is in free fall against the dollar with the Eurodollar currency trading at a two year low. Weak inflation data from from Germany worried investors that the euro zone economic engine may be on its way to recession, which put pressure on the European common currency.
The British pound is still under pressure as Brexit uncertainties remained high as the UK Parliament re-opened last week after its temporary closure was ruled unlawful by the supreme court. Bank of England monetary board member, Saunders, said that it was "quiet plausible" for BoE's next move to be a cut.
The Japanese yen weakened as the industrial production contracted more than expected in August, data showed on Monday.
Overall, the dollar index moved sharply higher after a slew of economic data pointed to disparities between the solid state of the US economy and weak ecomic perforemance of the rest of the developed world.
Gold prices fell sharply as risk on sentiment prevailed and yields on US government bonds continued to rise. "King dollar" also put pressure on Gold prices.
US stock indexes were little changed. A plan reported by Bloomberg that the US was planning to stop Chinese companies from listing on U.S. exchanges weighed on indexes. However, the White House later denied such plans and markets looked forward with optimism for next weeks top level trade talks between the US and China.
Crude oil prices fell sharply as the Saudi production capacities were fully restored to 11.3 million bpd. In addition, concerns about slowing global economic growth amid an ongoing US China trade war with the United States weighed on crude prices. However this week reports that OPEC, the US and Russia's output fell in July and August has supported Crude.