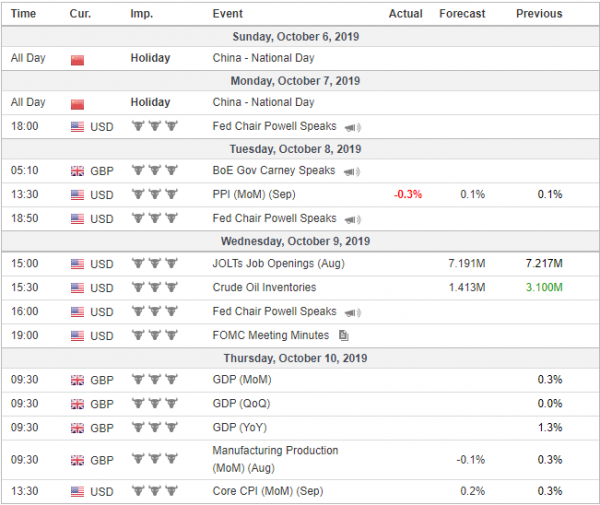 The euro strenghtened against the dollar. Weak data from the US manufacturing and services sectors put pressure on the dollar last week. However, solid data from the US labor market came on Friday providing support for the greenback.
The British pound weakened as several British media outlets reported that Brexit talks were close to breaking down and that a disorderly Brexit could deliver a 100-billion pound blow to public finances. On Tuesday, Sky News reported that German Chancellor Merkel told U.K. Prime Minister Johnson a deal is "overwhelmingly unlikely".
The Japanese yen was in high demand last week. Alongside the safe haven appeal of the yellow metal, poor EU and US data, overall household spending figures rose for their ninth straight month on Tuesday, providing additional support for the yen.
Overall, the dollar index weakened after a slew of economic data pointed to higher probabilities of rate cuts. Its expected that the Fed will cut interest rates again at the end of this month. If it goes ahead that would be the third cut this year.
Gold prices were choppy but ended the week slightly higher as risk on and off sentiment altered over the week.
US stock indexes ended lower, exhibiting high volatitlity, after fears earlier in the week that the US economy was slowing down. The focus of investors much depends on the continuation of trade talks between the US and China, this Thursday and Friday in Washington.
Crude oil prices ended lower. The slowing of the US economy dragged on oil while traders await the outcome of this week's top-level U.S.-China trade talks. However, slower drilling pace in the US provided some support for oil prices.