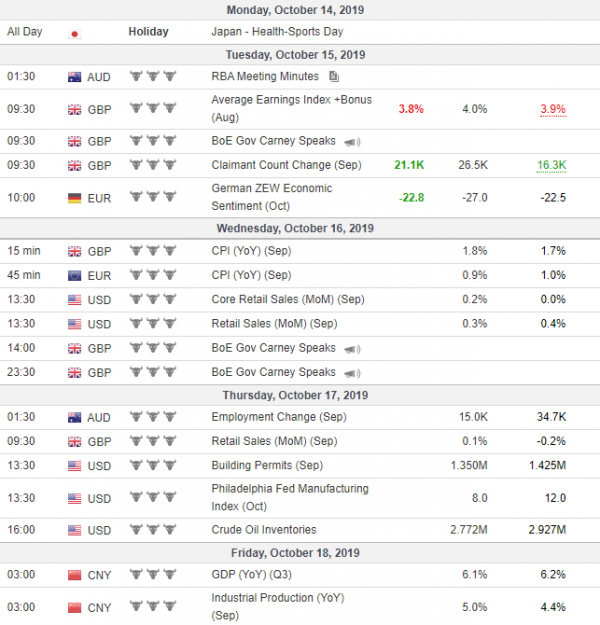 The euro strenghtened against the dollar. The so called higher risk currencies gained momentum last week so the euro, as the non-safe haven compnent of the EUR/USD currency pair also benefited from the saga surrounded US-Chinese trade talks.
The British pound strenghtened sharply against the dollar as the UK and EU negotiators had extensive talks and came closer to a final deal. It remains to be seen if the agreement on the disputed Irish border regime can be reached before the EU leaders meet in Brussels on Thursday and Friday.
The Japanese yen weakened last week as news events concerning Brexit and US-China relations progressed towards a positive outcome. However, China wants another round of talks before signing phase one of the trade deal, which helped the yen recoup some losses on Monday and Tuesday.
Overall, the dollar index ended the week lower, as the released Fed minutes this week suggested a neutral outlook. However, traders remain convinced that the central bank will cut rates at the end of the month.
The Turkish Lira fell to its lowest level in six weeks after the country entered into battle against the Kurds in Syria. The US announced it would place sanctions upon Turkey, pushing the Lira lower, but the currency capped losses on relief that sanctions were not harsher.
Gold prices ended the week slightly lower as risk on sentiment prevailed. Rising US government bond yields represented the other side of the coin.
US stock indexes ended higher ahead of the third quarter earnings season, set to start this week. The macro focus on the outcome between the US and China helped indexes end the week higher.
Crude oil prices finished higher. Optimism while traders awaited the outcome of the last week's U.S.-China trade talks boosted oil prices. However, doubts about the scope and effectiveness of a phase one trade deal, reched on Friday, put pressure on oil prices.