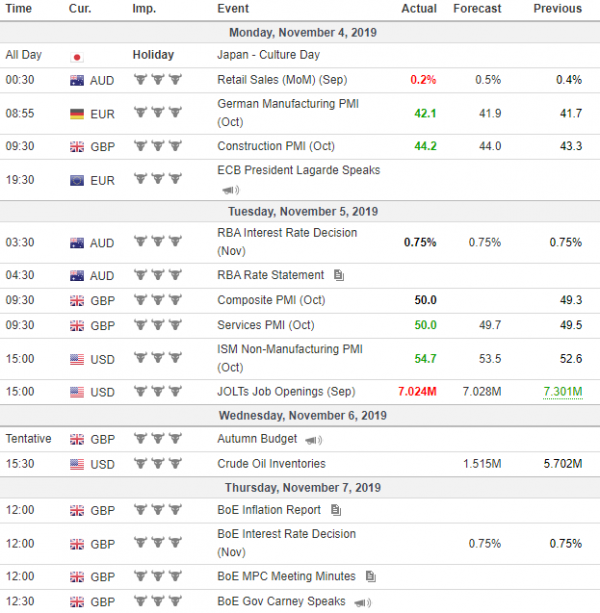 The euro was little changed against the dollar. October's Non-Farm Payroll data showed on Friday that the US labor market is still resilient, while the Federal Reserve decided last Wednesday to lower its key interest rate by 0.25% for the third time this year. However, the bank signaled it will pause its cycle of loose monetary policy until conomic data indicates otherwise, which provided support for the dollar.
The British pound was little changed but remained subdued as the government and opposition in Parliament decided to go for a snap general election on December 12. The pound will now react mainly to election headlines, until the election is resolved when the focus will return to Brexit.
The Japanese yen was very volatile and strengthened slightly against the dollar but retreated on Monday as risk appetite continued to dominate the financial market. Overall, the dollar index slightly fell last week.
Last week, gold prices rose sharply after the Fed cut interest rates which saw the dollar fall sharply against a basket of other currency, making Gold cheaper for foreign currency holders.
US stock indexes continued to climb amid positive sentiment, with the Dow Jones, Nasdaq and the S&P500 or USA500 all reaching fresh all-time highs. Apple and Facebook posted better than expected quarterly results, while China and U.S. came closer to a phase one deal. The question remains if the Trump administration will roll back previous tariff increases as the price for Xi agreeing to travel to the U.S. to sign the deal.
Crude oil prices rose last week on positive economic data from US and Europe and hopes for a Washington-Beijing trade deal. On Monday, Saudi Arabia launched what could be the world's largest IPO will the sale of 5 percent of its state owned oil producer Saudi Aramco with a likely valuation of 1.5 trillion dollars. In other news U.S. shale oil has seen a continuous slowdown in production growth since late 2018, although US production remains at record levels.