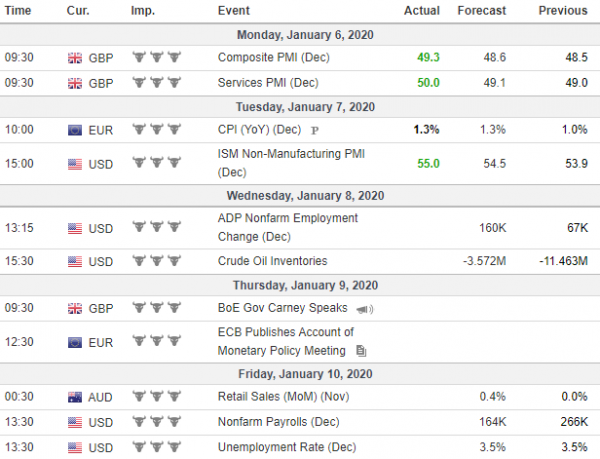 The euro was very volatile against the dollar. The euro initially continued to rise but the dollar pared gains on heightened Middle East tensions. However, the dollar receded on Monday as New York Fed President Williams said that if inflation continued to underrun target levels, this downward trend in inflation expectations would likely continue. Non-farm payroll data to be released on Friday will be a major market mover this week.
The British pound was also very volatile last week. UK Services PMI beat expectations on Monday recording 50 point levels, pushing the GBPUSD higher.
The safe-haven yen traded higher against the dollar amid intensifying Middle East tensions, but gave up some gains later.
The dollar index, which follows the performance of the US currency against its six major rivals, slid to 96 points at the very end of last year, its lowest level since July.
Gold prices rose sharply amid heated tensions between the US and Iran/Iraq. Stock indexes retreated after reaching all-time highs on Thursday on trade optimism.
Crude oil prices rose sharply surpassing 64 dollar a barrel on Monday after a U.S. air strike in Iraq killed Iranian General Soleimani on Friday. The U.S. military warned that there's a "heightened risk" of missile attacks near military bases and energy facilities in Saudi Arabia. Sanctions on Iraq, OPEC's second largest oil producer, are looming after its parliament voted to expel American troops from the country in response to the Baghdad airport attack. Goldman Sachs warned that actual disruption to global crude supplies is needed to keep prices at current levels.