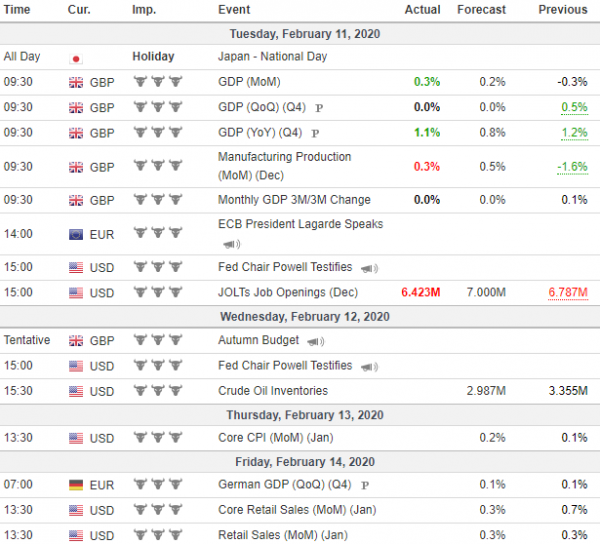 After the intense volatility, EUR/USD managed to relatively stabilize last week. The EUR strengthened against the USD at the beginning of the week, primarily due to good economic indicators. However, the EUR failed to keep up the trend, after Cristine Lagarde said a decade of crisis fighting has left policy makers with few options for more monetary stimulants. Better than expected labor market results published on Friday additionally strengthen the US currency and pushed this currency pair down.
The British pound experienced a sharp decline last week, primarily due to intense rhetoric between UK and EU representatives over a future trade agreement which need to completed by the end of the year. A firm stance of UK representatives infused a negative sentiment among investors regarding British pound, despite the positive economic indicators published in the previous week.
The Japanese yen has been in the uptrend throughout the last week, proving a status of investors' favorite instrument in periods of uncertainty in the market. The spread of coronaviruses outside China and uncertainty about the impact on global growth have been a key factor in the strong increase in demand for the Japanese Yen over the last week.
Gold managed to maintain previous week's gains as the coronavirus crisis continued while the World Health Organization issued a warning about the potential for more cases beyond China. Gold price remain near the highest since 2013 as investors evaluate the influence of the virus on global economic growth, but concerns over weaker physical demand for the precious metal in China are limiting gains.
Overall, U.S. dollar remained in demand boosted by its safe haven status as the coronavirus outbreak continues to spread and also by signs of strength from the U.S. economy. The strong dollar was also supported by Federal Reserve Chairman Jerome Powell who said the U.S. economy appears durable with steady growth and unemployment near a half-century low, but faces risks from the deadly coronavirus in China.
US stock indexes extending recent gains as investors look past the coronavirus outbreak to a strong local economy and abundant central bank liquidity. The Fed chair statement about resilience of US economy also supported the stock market.
Crude Oil fell to 13-month low due to the upsetting supply situation. Rapid spread of coronavirus put producers on high alert for a sharp decline in demand. U.S. crude futures slide below $50 a barrel for the second time this month. In the meantime, Russia and Saudi Arabia not agreed about production cuts, which threatens to undermine Moscow's testy relations with OPEC. Commodity prices are also being pressured by a strengthening U.S. dollar.