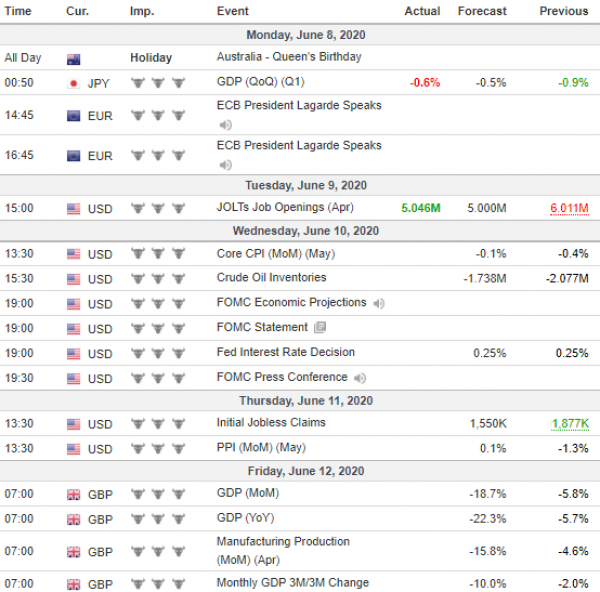 The euro rose last week but retreated on Monday and Tuesday. Surprisingly weak German April (export and industrial production) data weighed on the euro. Investors await next moves from the U.S. Federal Reserve ahead of its policy meeting on Wednesday, and are speculating a new approach might include yield curve control.
The British pound strengthened against the dollar although the last round on post-Brexit relations saw no breakthrough. Without an accord with the EU, Britain will fall to WTO rules in 2021, which would be an unfavorable outcome for the pound.
The Japanese yen was little changed with very high volatility. It weakened first, but on Monday and Tuesday, the yen strengthened as investors weighed the possibility of stepped-up bond buying, or a very dovish outlook from the Fed.
Gold prices fell as NFP data on Friday unexpectedly showed that in May the US economy added 2.5 million jobs, while expectations stood at minus 8 million.
US stock indexes continued to rise. Investors shrugged off civic unrest in the US and focused on the reopening of the global economy and on the fact that indexes were still below levels at the beginning of this year, which for some investors presents a key buy signal.
Crude oil prices rose last week but retreated on Monday. OPEC+ agreed on Saturday to extend output cuts of 9.7 million barrel per day into July. However, Goldman Sachs warned on Monday that prices were likely to pull back in the coming weeks due to the uncertain path of future demand and a "daunting" inventory overhang. In addition, Libya took an important step to revive its oil industry by restarting production at two oil fields after a five-month halt.