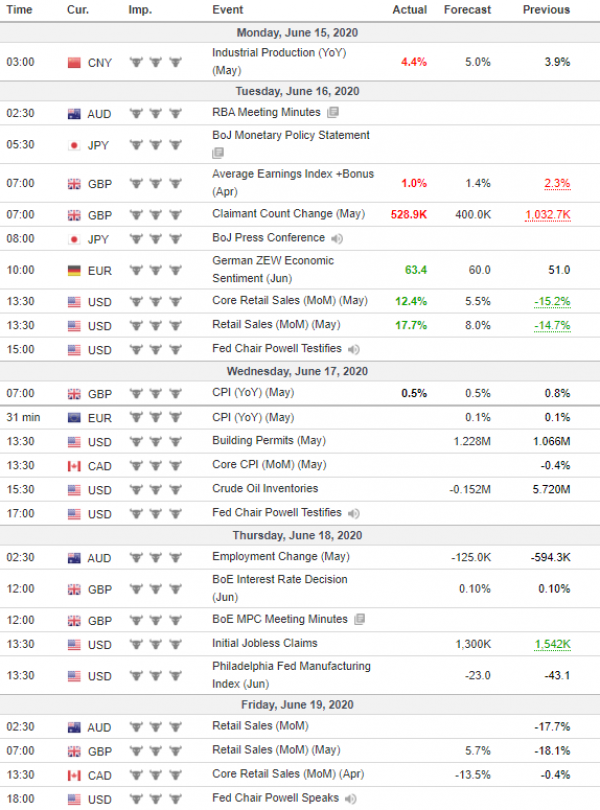 The euro was little changed but optimism prevailed and sent the EUR/USD to fresh highs, with last week's events showing that sentiment can change rapidly. Markets cheered US fiscal and monetary stimulus on Monday, as the U.S. Federal Reserve decided to launch its corporate bond buying program.
The British pound remained flat against the dollar amid high volatility. The British economy shrank by a record 20.4% in April. The UK said on Friday it would not extend trade talks beyond December but on Monday Prime Minister Johnson expressed optimism about Brexit talks after an hour-long videoconference with European Commission President von der Leyen and other EU officials. Both sides agreed to work toward a deal, hopefully to be struck this summer.
The Japanese yen was also little changed with its central bank standing pat on additional stimulus activity for now, believing that enough has been done to create conditions to boost the economy.
Gold prices slightly increased as the US Federal Reserve announced on Monday it would buy corporate bonds, prompting a sell off of the safe-haven dollar, while underpinning the yellow metal at the same time.
US stock indexes fell as a new wave of infections in reopened countries such as China, Japan and US federal states spooked investors. However, stocks jumped on Monday after the Fed promised a fresh set of liquidity measures in the form of corporate bond buying.
Crude oil made marginal losses last week, as concerns that a resurgence of new coronavirus infections around the world could hamper fuel demand competed with hopes for further cuts in crude supplies. The energy minister of the United Arab Emirates stated that prices will soon be brought back to "normal". However, the direction of oil prices will hinge to a large extent on whether a second round of infections forces economies into lockdowns once again.