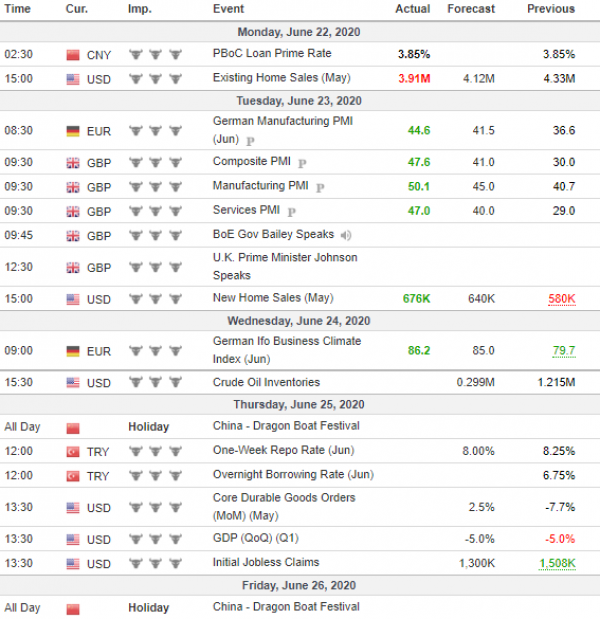 The euro weakened last week. Optimism was waning and sent the EUR/USD lower. However, it strongly recovered on Monday and Tuesday as risk-appetite combined with upbeat data from Germany and France to pave the way for the uptrend.
The British pound weakened against the dollar amid high volatility. The Bank of England decided on Thursday to provide fresh monetary stimulus in the amount of 100 billion pounds. UK-Japan trade concerns and the post-Brexit impasse weighed on the pound.
The Japanese yen traded in a tight range over the week as market sentiment changed between risk off amid rising coronavirus numbers and risk on as countries continued to re-open.
Gold prices continued to rise. Large asset management companies told their clients it was time to buy gold. In addition, bleak fundamentals combined with stimulus - billions of fresh liquidity, exerted upward pressure on the precious metal.
US stock indexes remained flat as the sharp increase in the number of infections worldwide spooked investors, while their conviction that the worst has passed and stimulus measures provided support.
Crude oil prices continued to climb in what can be defined as organic growth, mostly free of sharp short term price changes. Concerns that a resurgence of new coronavirus infections around the world could hamper fuel demand have been set aside. Business as normal in spite of increased infections, and increased traffic in big cities worldwide provided constant support. Iraq and Kazakhstan also promised to implement their commitments under the OPEC+ deal in months to come, while Bank of America on Friday revised its Crude Oil price forecast upwards for this year.