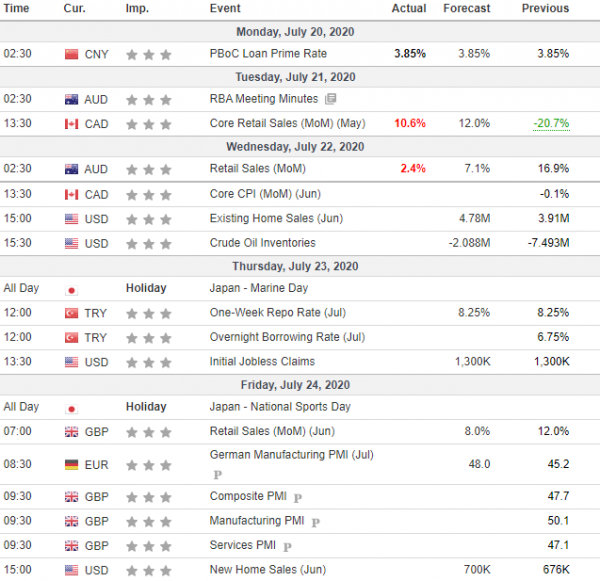 The euro continued to strengthen against the dollar last week. The revised EU recovery plan deal has been finally reached on Tuesday morning after a four-day meeting of the European Council. While the size of the overall fund was preserved at 750 billion euros, the amount of grants was lowered in line with the frugal four (plus Finland) countries' request. The news confirmed the euro's previous uptrend.
The British pound was quite volatile. It weakened first, but recouped all losses on Monday and Tuesday amid increased prospects of a possible made-in-UK vaccine. An agreement between UK and the EU on future ties by October is ambitious but achievable, German Foreign Minister Maas said on Tuesday.
The Japanese yen continued to trade in a narrow range against the dollar.
Gold price continued to rise by climbing higher into the 1800 territory and hitting a new 8 year high. The combined effect of low interest rates, stimulus, the prospect of Jo Biden victory in the US presidential elections scheduled for November, and even higher valuations of stocks (thus becoming prone to correction) are pushing gold prices higher.
US stock indexes continued to rise. New earnings season is in full swing with Tesla and Microsoft among the most famous names, planned to report on Wednesday. The US Congress is ready to prepare a new massive monetary stimulus in an attempt to help US citizens and small businesses weather the covid-19 pandemic.
Crude oil prices were mainly flat last week but rose sharply on Tuesday. Encouraging data from trials of three potential COVID-19 vaccines lifted sentiment among oil traders. A weakening dollar also provided continued support to oil prices.