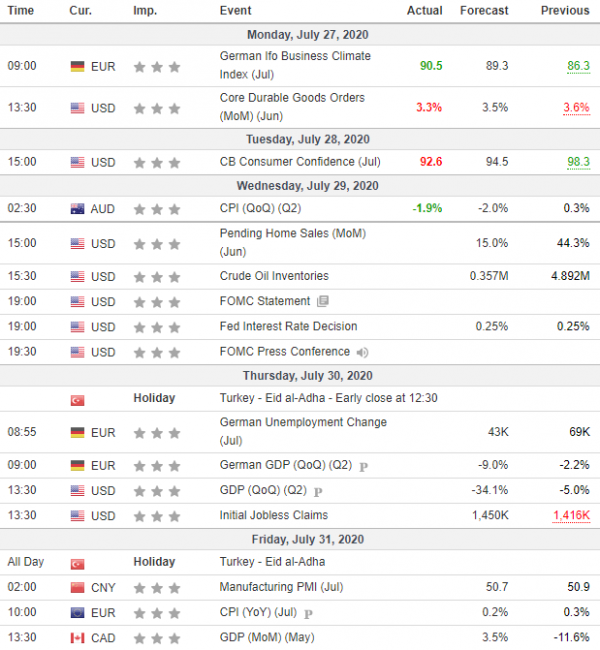 The euro strengthened further against the (weakening) dollar. The EU recent financial deal and the bottoming dollar across the board continued to push the currency pair up. On Monday, German IFO data rose significantly pushing the euro to a 22-month high.
The dollar also weakened against the British pound as the optimism over the UK-US trade deal offset looming Brexit concerns.
The Japanese yen strengthened as the US further escalated its poor relations with China. Additionally, the rising number of infections around the globe provided support to the Japanese currency.
Gold prices reached an all-time high on Monday, supported by the ongoing weakness of the US dollar due to massive government stimulus (and accompanying printing of fresh dollars) and flaring U.S.-China tensions. The Republicans agreed (between themselves) to support a 1 trillion-dollar stimulus package in an attempt to help unemployed people and struggling economy but House Democrats want a 3 trillion-dollar package.
US stock indexes were little changed. Earnings season continues this week with Facebook, Amazon, Boeing and Apple among the most famous names, planned to report their quarterly results. The US Federal Reserve will meet this week to discuss a slight change in the measurement of inflation, which may lead to prolonged state of low interest rates, benefiting further the stock market.
Crude oil prices were mainly flat. The receding dollar helped oil prices, while spikes in the number of infections dampened sentiment among oil traders.