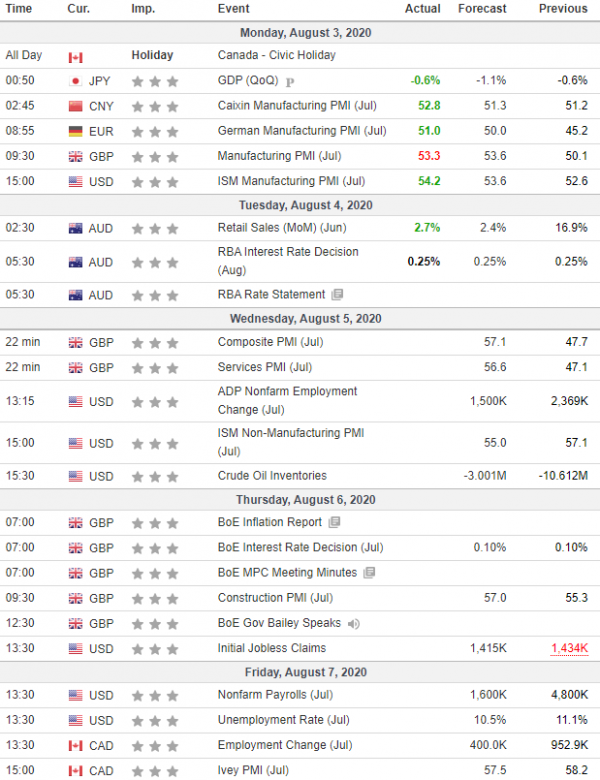 The euro peaked against the dollar last week but retreated on Friday due to weak German GDP figures. However, American lawmakers failed to reach a deal on continuing coronavirus stimulus, triggering worries over the prospect of US economic recovery.
The British pound eased after a two-week rally as optimism over the UK-US trade deal waned and the English government was reported to be making plans to lock down London due to rising infections.
The Japanese yen was little changed but exhibited strong volatility. Solid Very promising Japanese retail sales and GDP figures boosted the yen, along with rising number of infections around the globe. However, the dollar bounced back on Friday after US yields recovered.
July was the worst month for the dollar in the last 11 years. Talks between Democrats and Republicans on the next stimulus package are stuck, while the existing benefits for the unemployed expired on July 31. The longer the impasse, the greater the damage to the US economy, which prompted President Trump to announce that an executive order might be passed to prevent damage and bridge the gap in federal benefits.
Gold prices remained near all-time high levels, supported by the ongoing weakness of the US dollar, falling US government bond yields and U.S.-China tensions.
US stock indexes slightly rose. Tech giants, Amazon and Apple, posted better than expected quarterly results, which boosted investor sentiment. Also, the US Federal Reserve indicated at its last meeting that it will provide monetary support as long as necessary until the health situation improves and allows a stable economic recovery.
Crude oil prices were subdued. OPEC+ stepped up output since August 1, adding around 1.5 million barrels a day of supply, while US producers also plan to restart shut-in production and inventories remain near historical highs. Spikes in the number of infections around the globe dampened the expectations for a meaningful recovery of demand. However, a weakening dollar provided continuing support, while promising PMI manufacturing data in Europe and US published on Monday lifted sentiment.