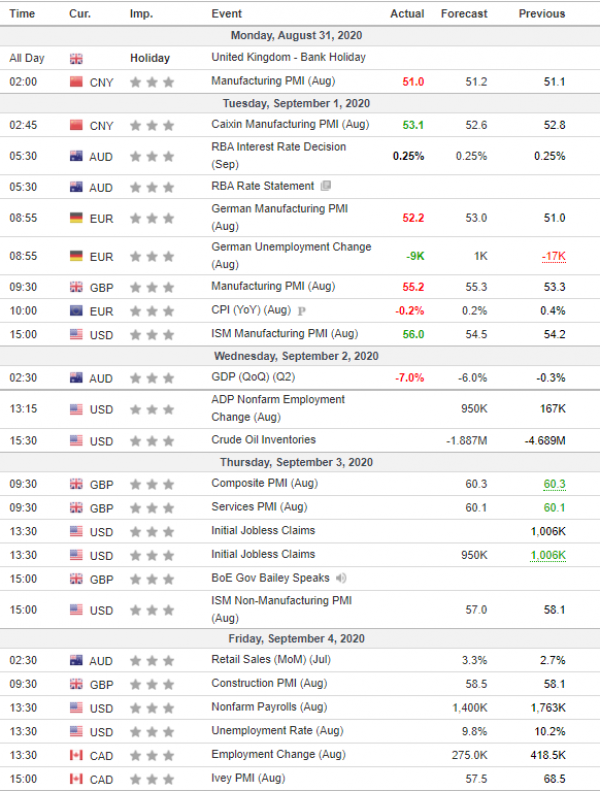 The Euro grew slightly higher last week as markets took a collective breath awaiting Fed Chair Powell's keynote speech at Jackson Hole. Powell sent the dollar lower against a basket of other currencies on Thursday as he signaled that the Fed was willing to let inflation rise beyond its usual 2% target, implying that US interest rates will remain very low for years, rather than months.
The British pound pushed higher against the dollar amid high volatility at the end of the week as the GBP/USD pair hit its highest level so far this year. While some traders took a summer break, others focused on some better than expected economic data from the UK, while the dollar sank against most of its rivals.
The Japanese yen traded in a tight range but fell over the week but the resignation of Japanese Prime Minister Shinzo Abe caused some volatility late in the week as investors moved into safe haven instruments.
Gold prices increased over the week as the dollar declined. Investors were also interested to read fillings showing that Warren Buffet has sold much of his bank stocks and has bought Gold instead. Fed Chair Powell's dovish statement also underpinned the metal last week.
US stock indexes continued to hit record highs as tech stocks again pushed shares upwards. There was particular interest in Apple and Tesla since both issued stock splits, which saw prices for both fall by one quarter and one fifth respectively when markets re-opened on Monday.
Crude oil prices broadly continued their range bound trade, while also climbing to a five month high. Crude was supported by hurricane Laura in the oil rich Mexican Gulf which then made landfall in the US impacting oil supplies in both locations. The closure of refineries and rigs continued to support oil prices into this week as engineers struggled to bring oil back onto the markets.