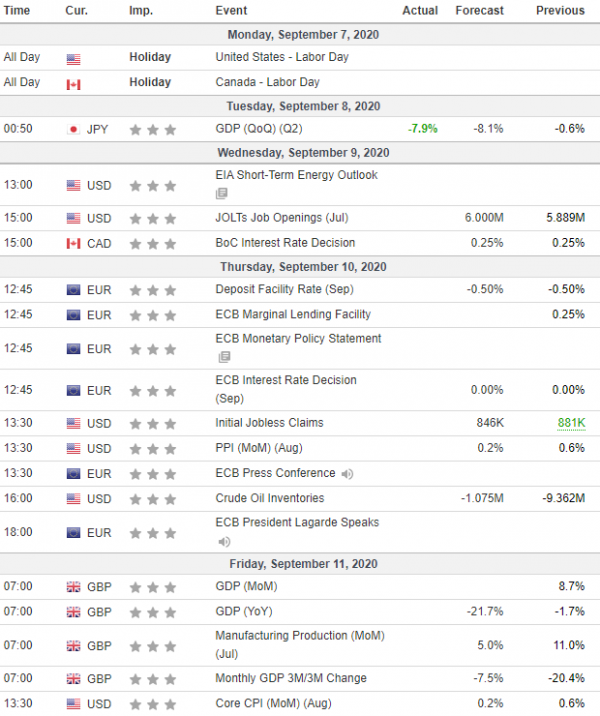 The euro weakened against the oversold dollar. Slightly encouraging US NFP data for August on Friday and dovish European Central Bank meeting expectations, to be held on Thursday, weighed on the common European currency.
The British pound strongly weakened ahead of the key round of post-Brexit EU-UK negotiations. Discrepancies of the two sides over fisheries and state aid seem to be unsurmountable at the moment, while UK government preparations for a no dealBrexit, after December 31, added to negative sentiment. Over the weekend a new British deadline of mid October by which a deal must be agreed didn't help either.
The Japanese yen was also on the back foot against the US currency. In the second quarter, Japan's economy shrank 28.1% on an annual basis, worse than the initial estimate of a 27.8% contraction.
Gold prices ended the week lower on slightly positive NFP report figures, while the recovery of the dollar also exerted negative pressure on gold prices.
US stock indexes fell steeply after a sell-off in technology stocks. Japan's Soft bank amassed a huge position in derivatives on US equity stocks in the last few months. The unwinding of the position caused tremendous negative pressure on stock prices.
Crude oil prices fell last week with negative pressure looking set to continue this week.The Labor Day holiday in the U.S. marked the end of the peak driving season, while constant fuel demand worries due to pandemic added to the negative outlook. In addition, Saudi Aramco lowered its official price for its Asian buyers. Rising number of infections in Brazil, India and Europe were a drag on oil prices too.