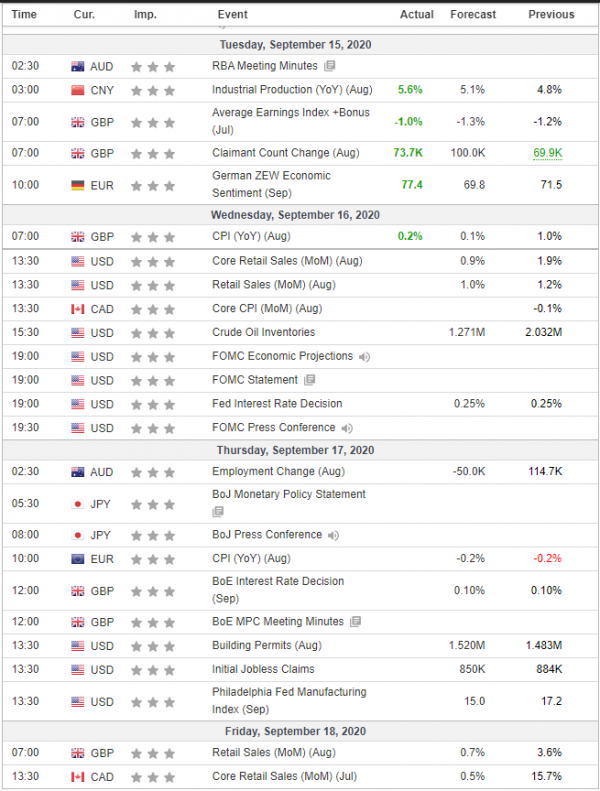 The euro strengthened against the dollar. The ECB expressed strong confidence in the rebound of the euro zone economy, while President of the ECB Lagarde's address after the ECB meeting lifted the sentiment on the shared European currency. She reaffirmed that the ECB will not intervene on the Forex market to prevent further strengthening of the euro as it is not the ECB mandate to control the euro exchange rate.
The British pound was in free fall last week but consolidated on Monday and Tuesday. The initial parliamentary vote on the U.K.'s controversial bill to violate the Brexit agreement with the EU passed on Tuesday. The EU warned that the bill would lead to a collapse in negotiations, increasing the chances of a no-deal Brexit.
The Japanese yen strengthened on the weakening dollar ahead of the Bank of Japan's monetary meeting policy, to be held on Thursday. The Yen was also supported this week by news of the party victory of Yoshihide Suga which makes him favourite to be replacement for former Prime Minister Abe.
Overall, the dollar index fell as AstraZeneca resumed the U.K. clinical trials of its COVID-19 vaccine candidate. Meanwhile, Pfizer is looking to expand phase 3 trials for their own candidate, with a first vaccine expected to be ready by the end of this year.
Consequently, gold prices ended the week higher. US stock indexes were little changed. It fell first as the sell-off in technology stocks ended on Friday due to improved market sentiment.
Crude oil prices fell last week. Worries over a slow recovery in global fuel demand, depressed by the coronavirus pandemic, prevailed. However, Hurricane Sally was supportive for oil prices on Tuesday, which grew stronger. The second significant hurricane in the past month prompted energy companies, ports and refiners to shut down on Monday.