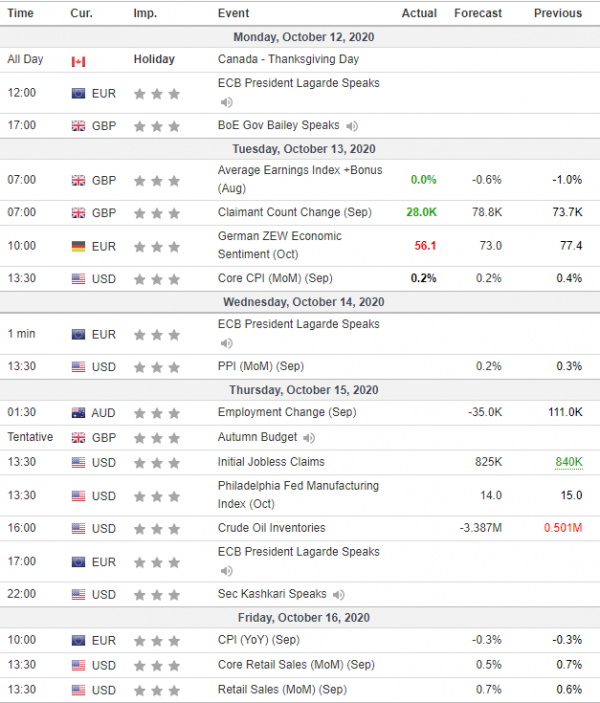 The shared European currency strengthened slightly against the dollar last week. The US dollar remained broadly subdued. On Tuesday, a very disappointing German ZEW survey exerted pressure on the euro. Similarly, risk sentiment was dampened after Johnson&Johnson reported that their coronavirus vaccine trial was stalled due to side effects in some volunteers.
The British pound added little gains against the dollar. Optimism amid the last round of trade negotiations pushed the pound higher. However, a dovish stance from the Bank of England, political uncertainty and advance of the pandemic in the UK capped gains. A favorable outcome of trade talks at the EU Summit could lift the pound sharply higher.
The Japanese yen was little changed but slightly strengthened on Monday due the increasing numbers of Covid infections around the world.
Overall, the dollar index retreated again due to high expectations that some sort of fiscal stimulus will eventually be adopted in the US Congress.
US stock indexes benefited from the weakening dollar ahead of the earnings season that started this week with big banks being the first ones to release financial reports. Big tech stocks led by Apple and Amazon pushed the overall market up ahead of the launch of iPhone 12 and Prime day event(s) on Tuesday.
Gold prices were little changed but exhibited very high volatility. Positive expectations of new fresh dollar influx boosted gold prices, while the surrounding uncertainty at the same time exerted pressure on Monday and Tuesday.
Crude oil was very volatile last week. Prices jumped above 41 dollars and, then eased on worries about the return of supplies. Downward pressure was exerted after Gulf of Mexico, workers returned to their platforms after Hurricane Delta, while Norwegian workers returned to man sea rigs after ending their strike. OPEC member Libya lifted force majeure (force maˈʒə) on Sunday at its Sharara oilfield, adding barrels to its output.