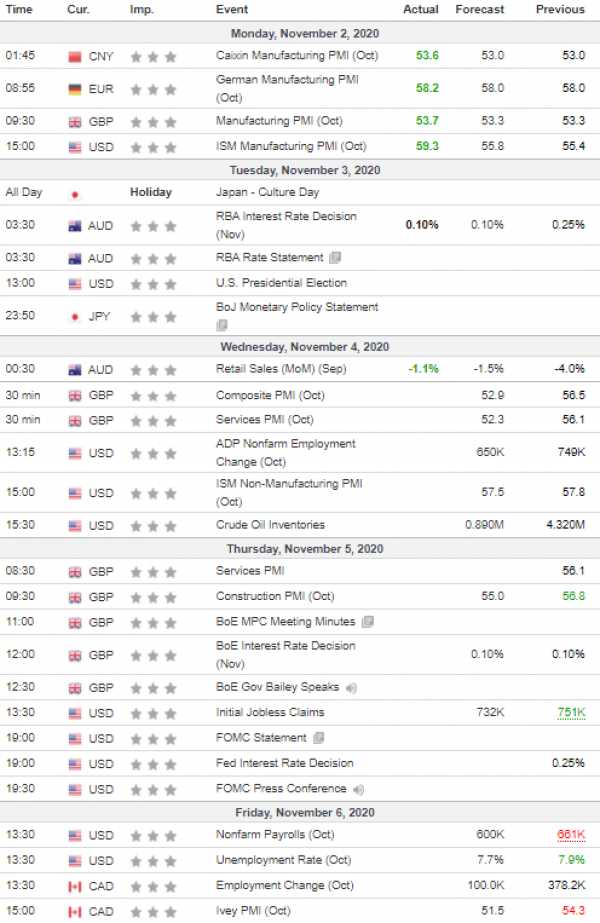 The shared European currency strongly weakened but bounced with the prospect of a Biden victory. If a contested election takes place afterwards, it would increase tensions and the trend might reverse.
The British pound was quite volatile. It weakened first, but recovered some gains on Tuesday. The EU and UK apparently moved closer to a deal but the new lockdown, imposed by Prime Minister Johnson, weighed on the pound. However, hopes for a last-minute deal are still strong.
The Japanese yen was choppy and little changed. New lockdowns, with an exponential growth of infections, weighed on market sentiment and boosted the yen. Overall, the dollar index was little changed. The Fed will meet on Thursday but will probably not indicate any policy change, while in December new forecasts are expected. Nothing is supposed to trigger an imminent change of policy.
The US stock indexes fell sharply last week but recovered on Monday. Big tech companies pared much of their previous gains... High valuations and the worsening of global economic outlook weighed on the stock market despite the fact that Apple, Amazon and Facebook posted better than expected quarterly earnings.
Gold prices were little changed but exhibited high volatility. The US Presidential elections are in focus. If Joe Biden wins the nomination and Democrats gain a majority in the Senate, it is highly likely that a large fiscal stimulus will be adopted, which may boost gold prices.
Crude oil prices strongly fell last week but recovered on Monday and Tuesday. New lockdown measures coupled with an increase of production in Libya, Iraq and Norway weighed on oil prices. However, the Russian ruble crumbled on Monday and the Russians signaled that OPEC output cuts, expected to fall by 2 million barrels a day, may be extended in 2021.