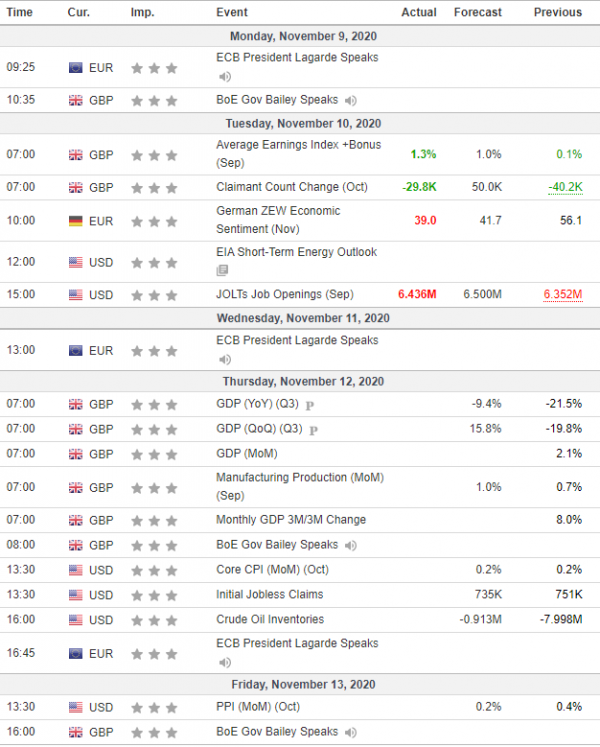 The shared European currency strengthened strongly on the prospect of a Joe Biden win in the US elections, but the trend reversed on Monday due to the oversold condition of the US dollar, which bounced back at the 92 level as it did in August and September.
The British pound strengthened on post-Brexit optimism and a surprising drop in jobless claims coupled with a better-than-expected increase in wages. The upper chamber of the UK Parliament amended the controversial Internal Markets Bill in contradiction with the Brexit Withdrawal Agreement. EU representatives are still in London for further talks, providing hopes for a deal by Mid-November.
The Japanese yen firmed but the trend abruptly reversed on Monday after Pfizer and German BioNTech reported that their anti-covid-19 vaccine is effective in preventing Covid in more than 90% of examinees.
US stock indexes rose strongly last week with USA500 hitting an all-time high on Monday. The prospect of a successful vaccine and Joe Biden in charge of the White House lifted sentiment sharply. At the same time, big tech companies, pandemic winners, were dumped as high valuations weighed much on them, as investors bought more traditional stocks.
Gold prices rose strongly on a positive US Presidential election outcome but were in free fall on Monday after sudden risk-on sentiment toward non-tech stocks. The spot price of gold fell more than 100 dollars in a few hours.
Crude oil prices rose last week. New lockdown measures coupled with a rising number of US oil rigs weighed on oil prices. However, new optimism following the US elections was visible across the markets alongside vaccine hopes combined to put oil prices up.