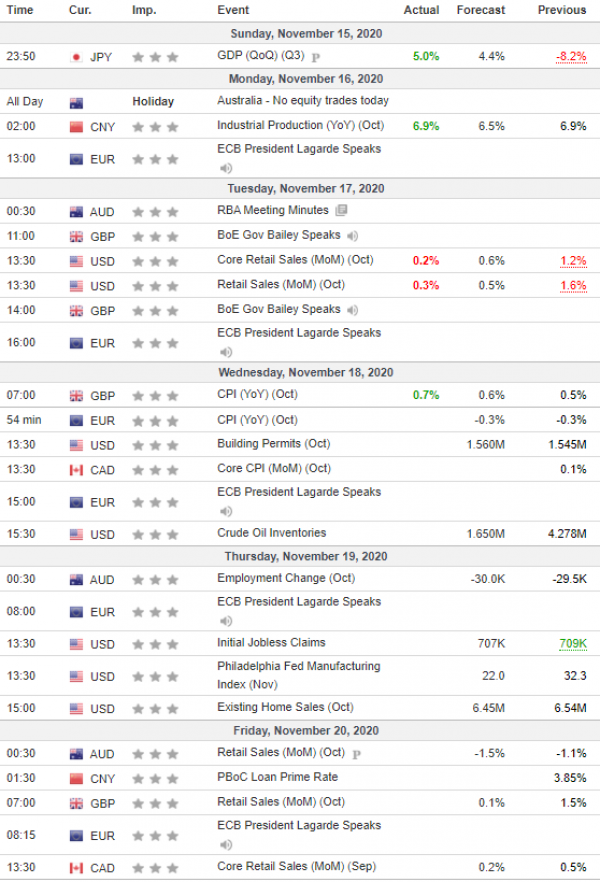 The shared European currency strengthened last week. The number of cases eased in France, off the highs from the last week. The biotechnology firm Moderna cheered markets on Monday by reporting a whopping 94.5% efficacy rate in its COVID-19 vaccine.
The British pound strengthened on post-Brexit optimism. Chief UK Negotiator David Frost said an agreement could come early next week. Both sides have meetings in Brussels this week and are trying to make progress ahead of an EU leaders' videoconference on Thursday.
The Japanese yen strengthened as investors assess that effective vaccines are quite different things from their distribution and adoption. Narrowing yield differentials between the Japanese yen and Western countries' bonds provided additional support for the currency.
US stock indexes rose strongly last week with USA500 approaching again its all-time high on Monday. The prospect of a successful vaccine and Joe Biden in charge of the White House boosted sentiment strongly. In connection to that, big tech companies, as pandemic winners, were dumped as high valuations weighed on them. After all people will spend less time purchasing items online and watching tv subscription services at home if lockdowns and the fear of catching Covid has passed. Tesla was officially accepted into the S&P500 stock index.
Gold prices continued to gradually rise on new post-Presidential elections optimism and benefitted from a softer dollar.
Crude oil prices were sharply higher last week as investors welcomed positive vaccine news from Pfizer. OPEC and its allies held a ministerial committee meeting on Tuesday to look at adjusting plans for oil supply cuts next year as the health crisis worsens the prospect of future demand. However, rising numbers of infections and US oil rigs weighed on oil prices.