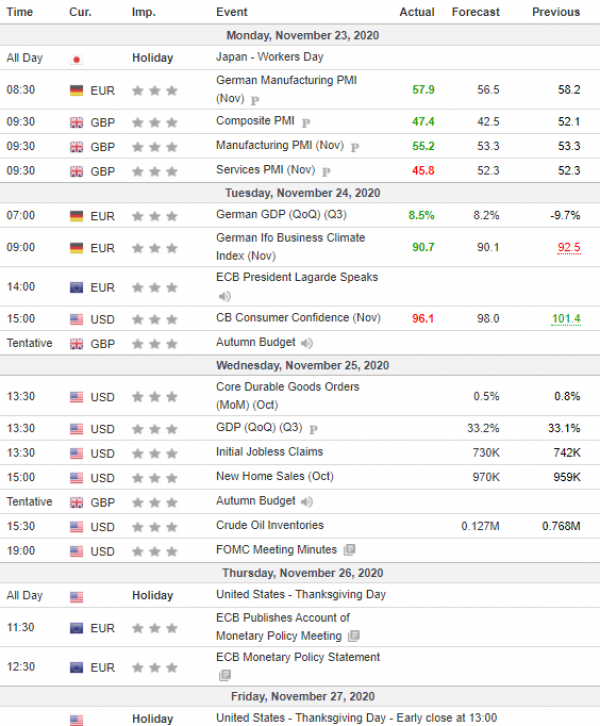 The shared European currency was little changed last week. On one hand, Hungary and Poland's veto on a new EU budget hurt the euro. However, President Donald Trump authorized the Government Service Administration (GSA) on Monday - to facilitate the transition to President-Elect Joe Biden. The news provided assurance that a smooth transition will be carried out, boosting the risk on sentiment, benefiting the euro.
The British pound strengthened on positive ("Made in UK") vaccine hopes and post-Brexit deal optimism. It seems that a draft trade deal between the EU and the UK is ready and already priced in (the GBP quotes). However, the signing of the deal is still expected; so the saga continues…
The Japanese yen strengthened but eased on Monday after AstraZeneca reported that its vaccine is 70 percent effective. Narrowing yield differentials between the Japanese and Western countries' bonds boosted the yen in last few weeks.
The US stock indexes were little changed. Successful vaccines, Joe Biden's upcoming presidency and Jennet Yellen (probably) in charge of the Treasury Department cheered investors' sentiment. However, the flaring pandemic of Covid-19 added to the gloomy mood.
Gold prices were in free fall on Monday and Tuesday as the Presidential election outcome and the news on the vaccine front provided fresh optimism.
Crude oil prices continued to climb. OPEC and its (Russian) allies are apparently ready to extend supply cuts next year. The US dollar sank to new lows on Monday, providing support to oil prices. In addition, mobility of people in the US is still quite high according to the latest data, while the number of oil rigs dropped for the first time in the last 10 weeks.