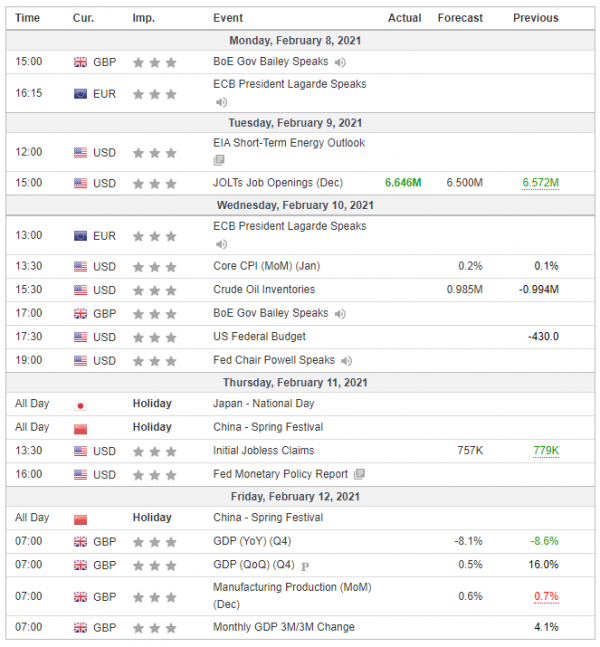 The euro strengthened against the dollar last week. Worse-than-expected NFP figures in January stopped the dollar advance. The proposed $1.9 trillion stimulus deal is on the way and market participants are factoring that a new supply of dollars will overwhelm the market soon; so the US currency is in retreat again.
The British pound continued to build gains against the dollar. The progress in coronavirus vaccinations remained supportive for the pound, while the Bank of England's monetary policy meeting last week reiterated the lack of interest for introducing zero interest rates.
The Japanese yen has recently been weakening but the trend reversed on Monday when it became clear that rising inflationary expectations in the US are weighing heavily on the dollar.
US stock indexes continued to hit all-time highs. An excellent earnings season, a successful rollout of vaccines alongside falling numbers of infected in the US, rising inflationary expectations with a retreating dollar and low interest rates, combined to push global investors toward the stock market.
Gold prices remained under pressure but bounced back on Friday after the dollar rally eased. Bitcoin as a form of digital gold is gaining interest of many investors, which is also negative for gold.
Oil prices continue their upward trend, with WTI Crude topping $58. Expectations for more robust demand are boosting prices together with the start of self-imposed production cuts by Saudi Arabia in the amount of 1 million barrels a day. Hopes for a return to normal in the second half of this year and associated economic expansion may also provide support to oil prices.