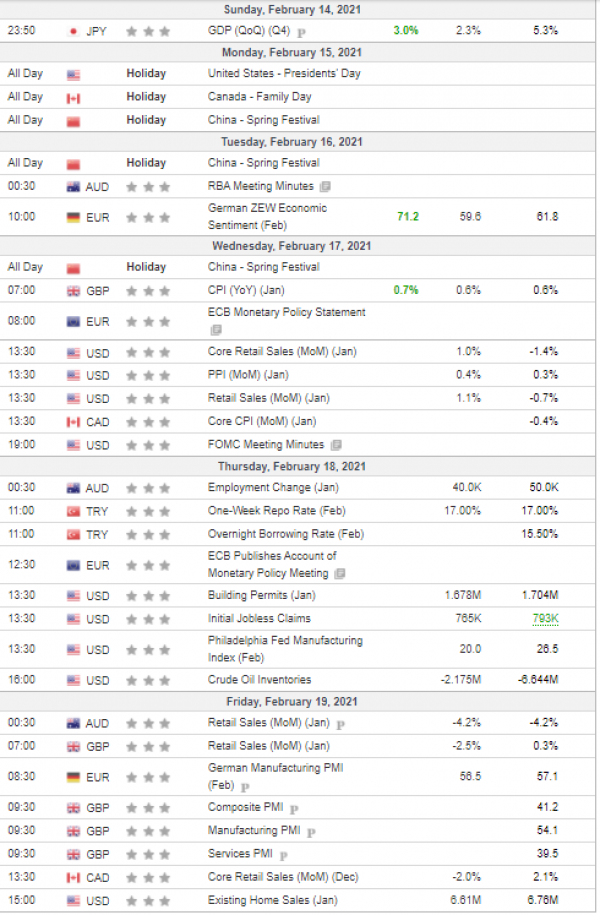 The euro was little changed last week. The messy rollout of vaccines in the EU weighed on the euro, while the prospect of a fresh $1.9 trillion stimulus deal which is in the pipeline, has been exerting pressure on the dollar. The German ZEW economic sentiment indicator surprised (very) positively on Tuesday giving a boost to the Euro.
The British pound continued to build gains against the dollar. The progress in coronavirus vaccinations remained supportive for the pound as did Prime Minister Johnson's hint that the worst was over and an end was in sight for lockdowns.
The Japanese weakened as the "risk on" sentiment continued to dominate the markets while the government has also been criticized for its slow vaccine rollout.
US stock indexes continued relentlessly to reach all-time highs. An excellent earnings season, a relatively successful rollout of vaccines, rising inflation expectations with a retreating dollar alongside low interest rates, continued to push global investors towards the stock market.
Gold prices remained under pressure but bounced back after the US government bond yields rose to new (recent) highs. Bitcoin as a digital gold is gaining interest of many investors and public entities and has hit all-time highs, which is also negative for gold.
Oil prices continue their uptrend, with WTI Crude topping the psychological $60 level. Tensions in the Middle East pushed oil prices to a 13-month high. The Saudi-led coalition fighting in Yemen intercepted and destroyed an explosive-laden drone fired by the Iran-aligned Houthi group in an attempt to target Saudi airports and oil refineries. Very cold weather across Texas in the US shut oil refineries. Texas produces roughly 4.6 million barrels of oil per day and is home to 31 refineries. The electric power outage also added the bullish sentiment.