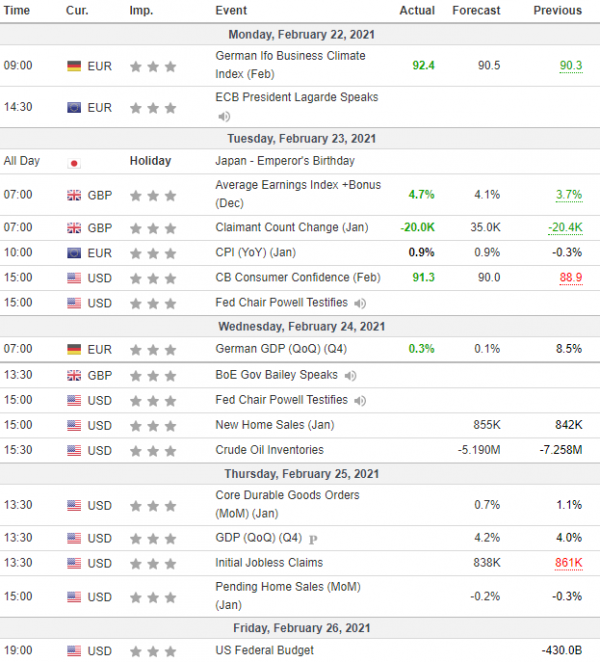 The euro strengthened last week against the dollar as the US Congress turned its attention to a new fiscal stimulus program in the pipeline. Christine Lagarde, President of the ECB said she "closely monitoring the evolution of longer-term nominal bond yields," signaling the ECB is ready to lower returns on debt, if necessary.
The British pound reached its highest level in three years. UK Prime Minister Boris Johnson laid out his cautious reopening plan. The goal is to avoid another lockdown, making the five-week easing irreversible.
The Japanese Yen strengthened on the receding dollar as US President Joe Biden announced that his administration will push soon for a new infrastructure spending program.
US stock indexes, especially those that track record of the technology sector, fell sharply. Rising long-term bond yields that serve as an input in the valuation of stocks frightened some investors who dumped those stocks and recirculated to industrials and those expected to directly benefit from the reopening of the economy.
Jerome Powell, Chairman of the Federal Reserve, will testify before Congress and provide fresh clues if the Fed will react - to ease the perception of a risk of overheating to the US economy.
Gold prices remained under pressure but bounced back on Monday due to heightened fears of inflation as rising commodity prices and overvalued stock markets underpinned gold prices. The US government bond yields that serve as a gauge of inflationary expectations rose to new one year highs.
Oil prices continued to rise. Freezing temperatures across the southern part of the US shut many refineries removing around 40% of the total US oil production. Warm weather finally came but the re-start of the production in Texas may take weeks. In addition, a drop in the US oil inventories continued to provide support for the oil prices, as has the rollout of vaccines.