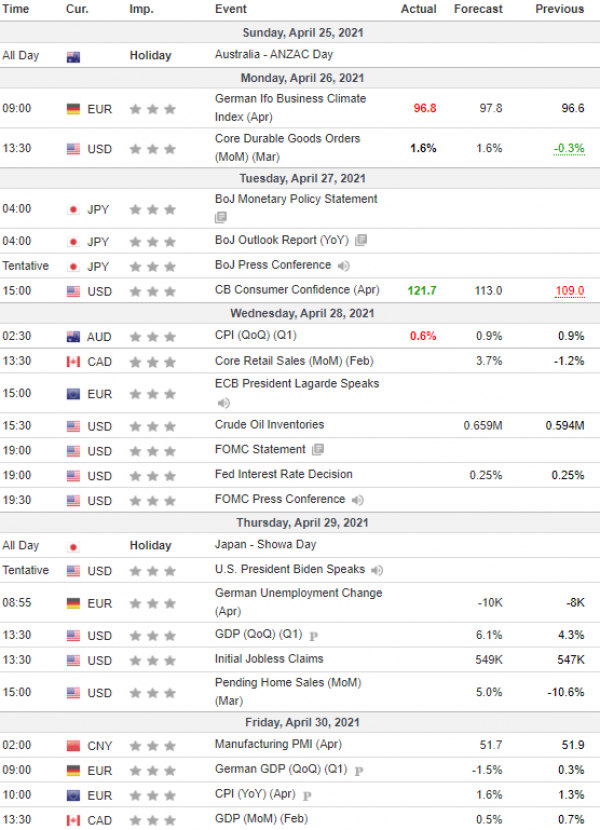 The euro slightly strengthened against the dollar. At its monetary policy meeting, the ECB acknowledged improving conditions in a subtle manner by characterizing risks as balanced. However, rising US Treasury yields supported the dollar on Monday and Tuesday, ahead of the Federal Reserve meeting on Wednesday.
The British pound remained subdued last week. Improved risk on sentiment pushed the GBP/USD higher but corrective pullback prevailed from uncertainty over US President Joe Biden's $2.25 trillion infrastructure spending, and a lack of post-Brexit trade deal between the UK and the European Union.
The USD/JPY hit a floor on Friday but rising US Treasury yields supported the dollar on Monday. Overall, the dollar was little changed around 91 points as the worsening health situation in emerging economies and a likely tax hike by the Biden administration continue to support the dollar.
Gold price were mainly flat, trading below the $1,800 level in a narrow range. Investors appear not to want to place any directional bets ahead of Wednesday's Fed meeting.
The S&P 500 and Nasdaq hit all-time highs again on Monday. The busiest week of the earnings season is kicking off, with Big Tech companies expected to be in the focus such as, Apple, Facebook and Amazon.
Oil prices rose continued to trade in the 60-64 range. Investors remained concerned about fuel demand recovery as the number of COVID-19 cases in India (and Japan), the world's third-biggest crude importer (and the fourth one), continues to increase. OPEC+ is scheduled to meet on Wednesday, April 28. Meanwhile, Iran and the US continue hold negotiations in Vienna on how to revive the 2015 nuclear deal. Progress is being made, and any major breakthrough could bring more than 1 million barrels a day to the oil market in months to come.