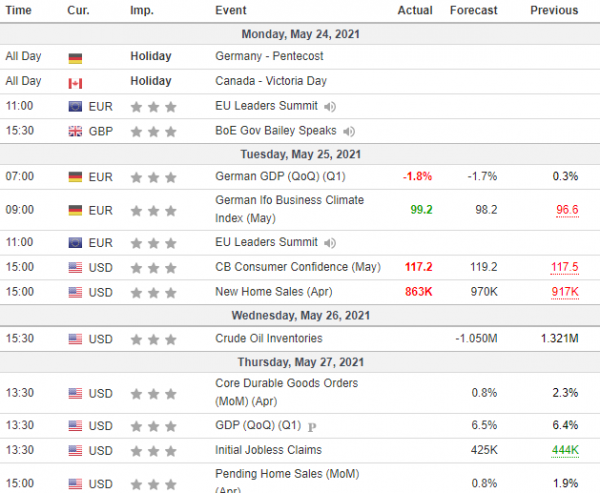 The euro strengthened slightly against the dollar solidifying gains above 1.22, benefiting from dollar weakness across the board and Europe's reopening, and after a number of the Fed officials reiterated their dovish stance - that the US economy has a long way to go and that inflation is transitory.
The GBP/USD was little changed. The pound was supported by comments from Bank of England Governor Bailey, who brushed off concerns about rising inflation. It came close to 1.42 amid dollar weakness, although European Commission's President Ursula von der Leyen rejected changes to the North Ireland protocol.
The Japanese yen traded sideways against the dollar. On one hand, the yen was supported by declining US bond yields and a worrying public health in South East Asia, while the oversold dollar resisted strongly.
Gold prices remained close to the $1,900 level. Supportive comments from Fed officials weighed on the dollar and provided fresh clues that a low-interest rate environment will remain in place for a long time. A sell-off in the US dollar alongside a drop in Treasury yields kept the yellow metal elevated.
US indexes rose on continued optimism over the post-pandemic world and dovish messages from the US central bank. The earnings season is coming to an end and strong earnings results validated the recent rise of stocks.
Oil prices were very volatile last week. Crude dropped sharply first on the news that the U.S. and Iran were heading towards an agreement on the use of nuclear power in Iran, which would have increased the supply by 1 million barrels or more in months to come. However, oil prices advanced to $66 after U.S. Secretary of State Blinken said over the weekend that there was no indication that Iran is willing to comply with nuclear commitments. An improved health situation in India, where numbers of new infections dropped to 220,000, was also supportive to oil prices.