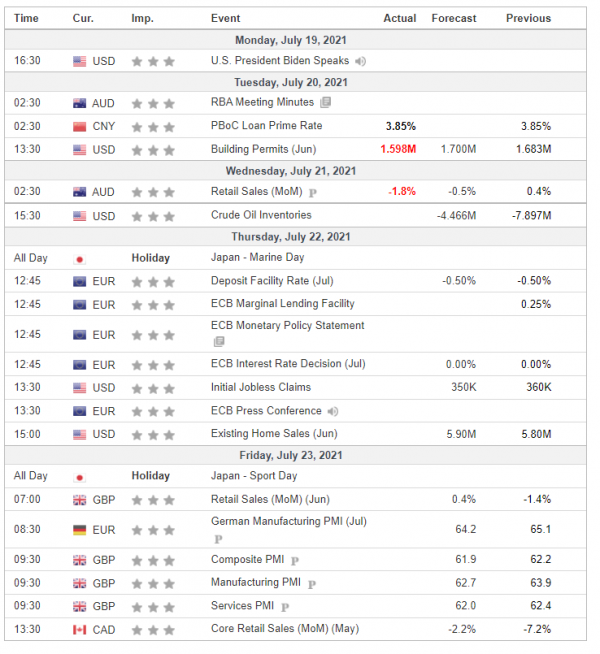 The euro weakened against the dollar. Spain, Portugal and the Netherlands are all have a high number of infections, while floods are ravaging Germany and Belgium. On Thursday, the European Central Bank will hold its regular policy meeting for the first time after announcing its strategic review, which is less strict on inflation.
The British pound strongly weakened testing on Tuesday the 1.36 level to the downside. Daily infections topped in 50,000 in the last days, while Britain remained determined to fully reopen the economy on July 19.
The Japanese yen was a sole exception to dollar strength and has rediscovered its traditional safe-haven appeal due to market turmoil that started on Friday and intensified on Monday.
Gold prices were little changed. Rising inflation in the US helped the yellow metal reach new short term highs on Thursday. On the other hand, the strengthening of the dollar and high demand for US government bonds kept the gold price under pressure near 1,800 dollars.
US indexes fell last week. The rapid spread of the Delta variant globally sent stock indexes down in spite of solid earnings results posted by the first companies that published them.
Oil prices were in free fall last week dropping more than 10%. The resurgence of the pandemic and the impact that it could have on global growth spooked oil traders on Monday. Fears grew that crude oil demand will be affected in weeks to come at the time when OPEC+ finally made decision over production quotas. The oil cartel decided to start increasing production by 400.000 bpd, 2 million barrels in total until the end of 2021.