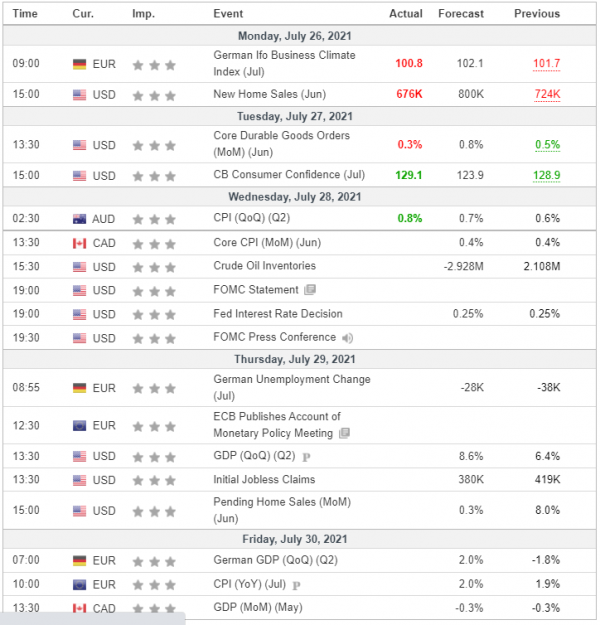 The euro was little changed against the dollar. The number of infections continues to rise in Europe, but not at a very fast rate. The old continent is catching-up with vaccinations. The European Central Bank promised to be more tolerant toward high inflation levels in the euro zone.
The British pound strengthened against the dollar. Britain's Covid cases have dropped for the sixth consecutive day. However, scientists warn that the current level of cases still reflects activities held before "Freedom Day" on July 19.
The Japanese yen traded sideways in recent days as safe haven assets saw some popularity, causing higher than average volatility
The US Federal Reserve will meet on Wednesday. It is probably too soon for the Fed to announce withdrawing support as many Americans have yet to return to jobs and the Fed recently indicated he is in no rush to tighten policy. The Fed will likely remain patient due to the rapid rise in COVID cases in the U.S. Overall, as a safe-haven currency, the US dollar has benefited from growing concerns.
Gold prices were little changed. On one hand, rising inflation in the US supported the precious metal, while the possibility of monetary tightening due to high inflation undermined the appeal of gold.
US indexes continued to climb, hitting record highs, as the excellent earnings season showed the high profitability of American companies. This week is perhaps the most important one for earnings with the major tech companies such as Apple, Google, Microsoft and Amazon declaring.
Oil prices rose last week. Traders are hoping that tight supply and rising vaccination rates will offset the impact of rising global COVID-19 cases on fuel demand. Road traffic data across the world suggest rising infections are having minimal impact. Global oil markets are expected to remain in deficit even after OPEC+ recently decided to slightly increase production.