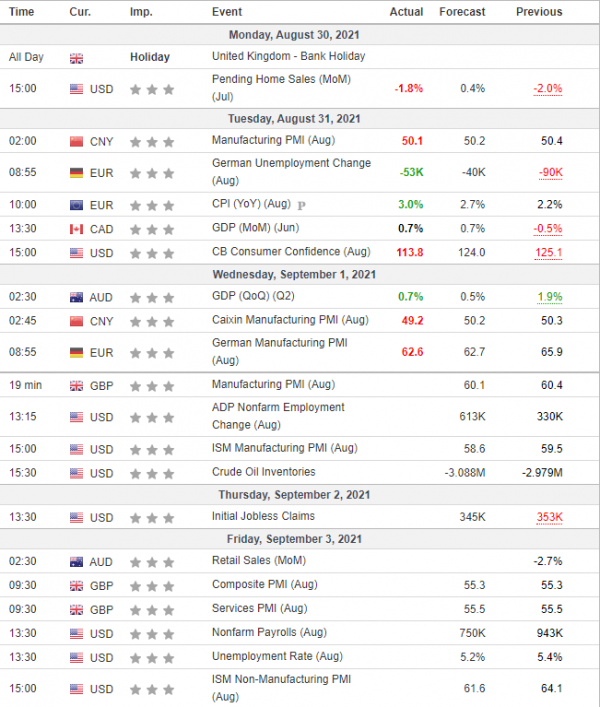 The euro strengthened against the dollar. The US Federal Reserve Chair, Jerome Powell, indicated on Friday that the Fed is in no rush to taper its 120-billion (a month) bond buying. CPI figures in the euro zone were much higher than expected, data showed on Tuesday. This may prompt ECB to start considering a change in its zero-interest rate policy, and consequently, supported the uptrend of the EUR/USD.
The British pound slightly recovered. The main driver was the dollar weakening. UK COVID-19 cases remain elevated. However, the number of daily infections is still hovering around 30,000.
The Japanese yen was little changed against the dollar. Overall, the dollar index retreated sharply, pressured also by falling US Treasury yields as an additional negative factor for the dollar. On Friday, the latest data from the US labor market will be in focus as the Fed pointed to jobs figures as an important element of its ongoing deliberations.
Gold prices broke well above the 1,800 level on Friday consolidating gains on Monday and Tuesday as the upbeat mood prevailed. Gold's safe-haven allure got a boost after concerns intensified over the global economic recovery amid the continuous spread of the Delta variant globally.
US indexes closed at record highs on Monday as Jerome Powell's dovish speech on Friday continued to provide a tailwind to stock prices.
Oil prices rose last week ahead of Hurricane Ida, which made landfall in the United States on Sunday as a Category 4 hurricane, knocking out at least 94% of offshore Gulf of Mexico oil and gas production and caused "catastrophic" damage to Louisiana's grid. About 1.72 million bpd of oil production remained offline in the U.S. following evacuations at 288 platforms. However, OPEC+ will meet on Wednesday. The meeting will likely proceed with the July plan to pump 400,000 barrels per day each month through December.