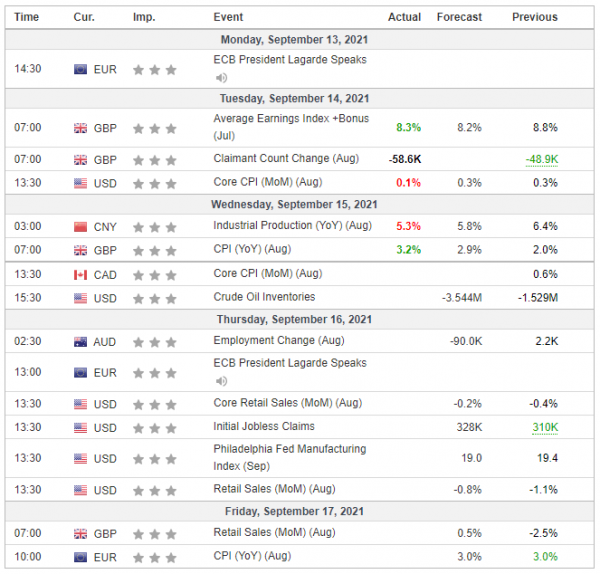 The euro weakened against the dollar. The European Central Bank seemed unmoved last week by higher inflation in the euro zone. In addition the center-left party (SDP) solidified its position in Germany. Their leader Olaf Schulz did not rule out a coalition with the radical left, which marginally weighed on the shared currency.
The British pound slightly rose despite ongoing EU-UK post-Brexit tension. The British side insists it could continue violating the Northern Irish protocol. However, excellent UK job figures showed another fall in the unemployment rate from 4.7% to 4.6% on Tuesday underpinning the pound.
The Japanese yen was little changed against the dollar. Overall, the dollar index was little changed with decent volatility.
Gold prices were subdued last week sliding a little below the 1,800 level ahead of US CPI data (to be) released on Tuesday.
US indexes closed last week lower. Investors now expect a substantial correction in stock markets by the end of the year, with some turning bearish on a global economic recovery. The possible passage of U.S. President Joe Biden's $3.5 trillion budget package is supportive for the stock market.
Oil prices rose last week hitting a six-week high on Tuesday. Fears that newly-formed hurricane Nicholas could (again) create havoc on the Southern shores of the US and bring the threat of widespread floods and power outages to Texas and Louisiana. The news pushed oil prices higher above the 70 level. In addition, the International Energy Agency forecast a demand rebound for the rest of the year.