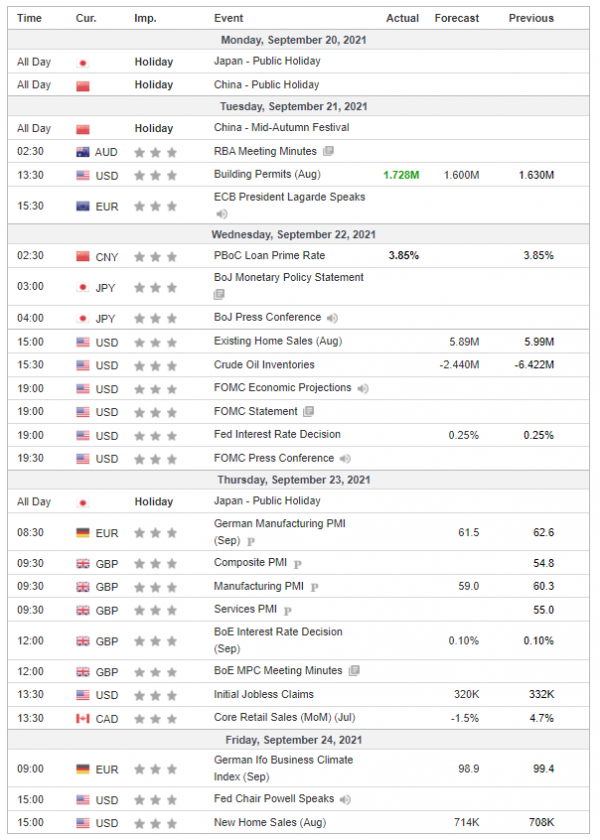 The euro weakened against the dollar. The pre-election lead of the center-left party (SDP) in Germany and their leader Olaf Schulz, inclined to form a coalition with the radical left, continued to weigh on the common European currency.
The British pound fell sharply amid the heightened "risk off" mood. The Bank of England will meet on Thursday and deliver its latest monetary policy decision and the quarterly inflation report.
The Japanese yen was little changed in choppy trade. Overall, the US currency strongly strengthened with the dollar index going well above 93 mark on Tuesday.
Gold prices fell sharply as US Treasury yields spiked last week. The US Federal Reserve could signal on Wednesday a move towards tapering of its bond-buying program later this year, despite concerns about the "fourth wave" of the pandemic. Softer inflation and a disappointing jobs report, however, point to a different conclusion.
US stock indexes fell sharply as fears of financial contagion spread all over the world. China's second-largest real-estate company remains in dire financial straits, which prompted a huge sell-off on Monday. Some investors now expect a substantial correction in stock markets by the end of this year.
Oil prices were little changed but were very volatile last week. Signs of U.S. supply tightening following the devastating hurricanes that hit the Southern US supported oil prices. On the other hand, Evergrande's woes are threatening the outlook for the China's economy and making some investors question its growth outlook and whether it is safe to invest there.