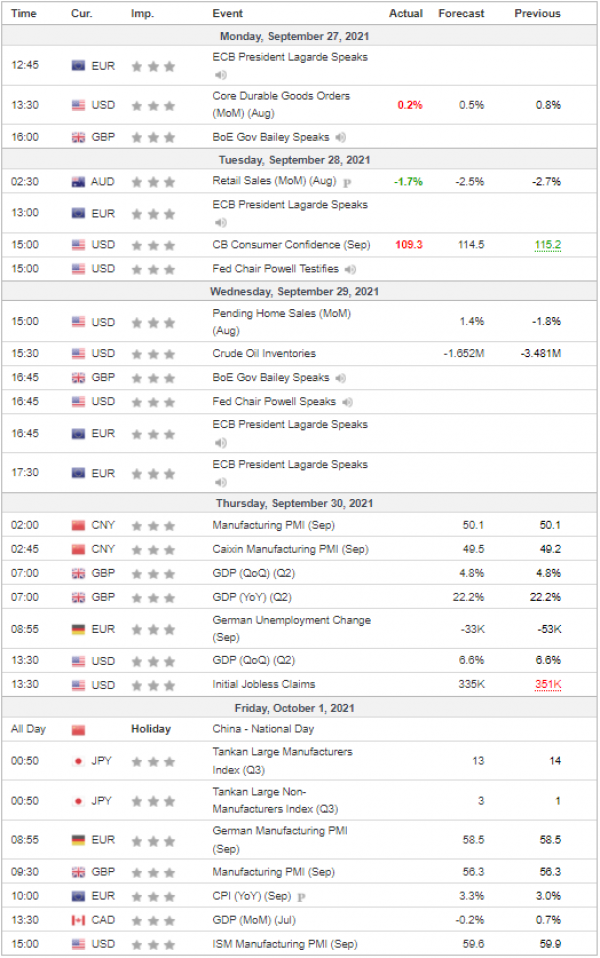 The euro weakened against the dollar. The election results in Germany have shown the strengthening of left wing politics in the "engine of the euro zone". A government might take months to form in Europe's largest economy. In addition, shortages of gas are a burning issue. On the other hand, the US Treasury yields have spiked. The 10-year bonds offer yields far above 1.50%.
The British pound was little changed but exhibited high volatility. Bank of England Governor Bailey stated that interest rates could rise before the bond-buying program concludes. The UK army is prepared to deliver gasoline to petrol stations as a shortage of lorry drivers caused petrol stations to lack fuel supplies.
The Japanese yen weakened against the dollar on rising US government bond yields. Overall, the US currency strongly strengthened with the dollar index going well above 93 points on Tuesday.
Gold prices fell as US Treasuries yields spiked last week. The US Federal Reserve has signaled a possible move towards tapering of its $120 billion/month bond-buying program from November, tentatively until the Mid-2022.
US stock indexes recovered but remained subdued. The hawkish Fed, high share valuations and market jitters from China were a drag on indexes. China's second-largest real-estate company remains in dire financial straits, while growing global demand and a shortage in coal resulted in power outages in the highly industrialized northeast of China is having a negative impact.
Oil prices strongly rose last week. Demand is running ahead of supply, depleting inventories amid a global energy crunch. The roll-out of vaccines, a drop in U.S. inventories, signs that Japan and Sydney are reopening after the pandemic entered into a slow phase are all combining to support crude oil prices.