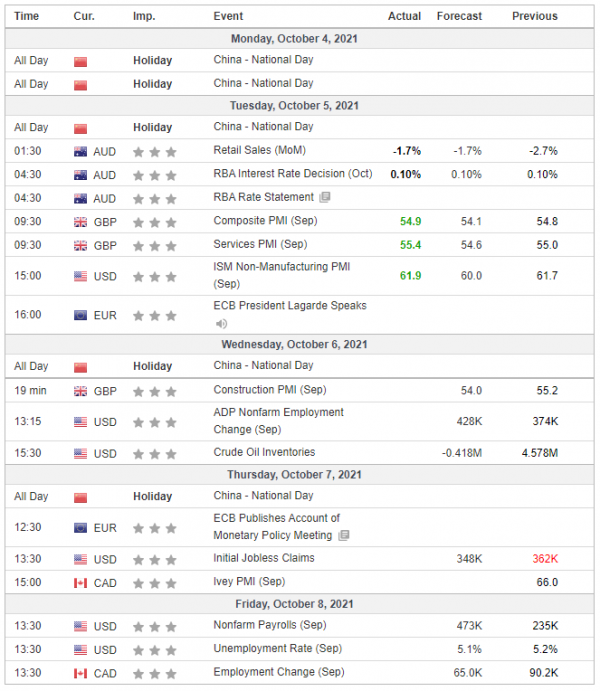 The euro weakened against the dollar. Worries about higher energy costs in Europe, the US debt ceiling and China's indebted property developers have weighed on sentiment and pulled down the shared European currency.
The oversold pound strengthened against the dollar. UK petrol stations are reportedly feeling some relief after the British army stepped in. Former UK Chief EU Negotiator David Frost reiterated the UK's position that the Northern Irish protocol agreed with the EU is unworkable. The pound's strengthening despite the worsening clash is a sign of strength.
After climbing above 112 for the first time in 2021 last week, the USD/JPY pair consolidated above 111 on rising US Treasury-bond yields. Overall, the US currency is hovering around a one-year high ahead of a key payrolls report on Friday.
Gold prices recovered. US President Joe Biden warned that the country could default on its debt within two weeks if Republicans do not cooperate on raising or suspending the debt ceiling.
US stock indexes continued to fall. Rising US bond yields triggered the tech-led selloff, which was also helped by Facebook-driven turbulence.
Oil prices strongly rose last week with WTI hitting its highest level since 2014. OPEC+ announced it had decided to keep a cap on crude supplies. It maintained an agreement to increase oil production only gradually, by 400,000 barrels per day, ignoring calls from the United States and India to boost output as the world economy recovers. Despite the pressure to increase output, OPEC+ was concerned that a fourth global wave of the ongoing pandemic could hit demand recovery.